Everything To Play For at Manchester Jewish Museum
Sarah-Clare Conlon, Literature Editor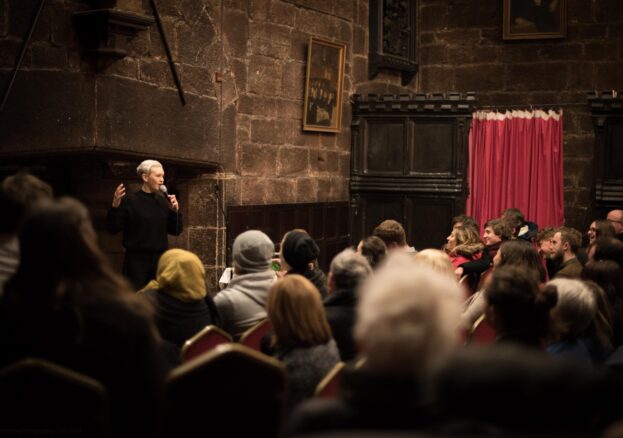 Having successfully run a cabaret-style night at the Northern Quarter's Castle Hotel for a number of years, along with various one-off events, First Draft got themselves a bit of cash from Arts Council England to up their game – and this is the second in a series totalling six gigs dedicated to telling tales from museum and library collections in, er, museums and libraries. The first of the Let The Artists In outings was held in the chilly throes of winter in the atmospheric environs of the Baronial Hall at Chetham's Library, and it sold out pretty sharpish, so you'd best get hold of a ticket for this middle Manchester date straight away. The third one will be at the Portico Library later in the year, before First Draft decamp to Newcastle until spring 2019.
Back to April, however, and you're invited to take a pew in this former synagogue and experience comedy, poetry, music, stories and other sorts of less categorisable performances all inspired by the sporting history and thriving Jewish community of Cheetham Hill. Collaborating on the Let The Artists In series are writers from The Writing Squad, a development programme for writers aged 16 to 21 living, working or studying in the north of England, and whose alumni include regular performers on the live literature scene, such as Lenni Sanders and James Varney.
For the Everything To Play For event at the Jewish Museum, the literary delights will be provided by Northern Writers' Award winner Yvonne Battle-Felton and spoken word artists Ella Ottemewo and Saquib Chowdhry. Theatre writer Sonia Jalaly will serve up playful words with a humorous hint, comedian John Klark will be unpredictable yet predictably funny, and Julie Burrow will be clowning about, so expect a lot of fun, plus a musical offering from composer Francesca Pigeon. First Draft are also using the Let The Artists In project as an opportunity to commission digital artworks for each event. This time round, visual artist Isla Badenoch and photographer-come-poet Lydia Hounat will both be taking the museum collection as a starting point to create some brand-new imagery.
Say Harry Jelley and Abi Hynes, co-organisers of First Draft: "Beyond sporting cliches are amazing stories of people and cultures. First Draft artists tell them. A Victorian boxer picks himself off the floor and steadies himself to fight again. A ping-pong ball spins in slow motion in the eye of the expert table tennis player in a 1940s snap. A footballer lines up a penalty in the last minute of the big match, pulse racing."
On your marks, get set, go get tickets…