Doctor Dolittle at The Lowry
Gemma Gibb, Associate Editor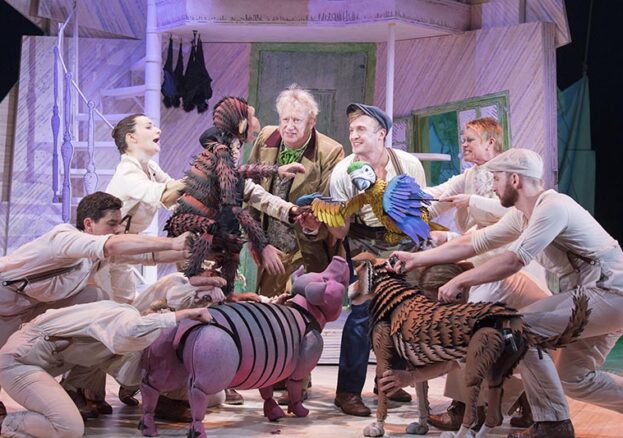 Let's face it who doesn't sometimes prefer animals to people? The eccentric Doctor Dolittle is set to entertain and enchant a new generation of theatregoers this festive season in a new production of academy award-winner Leslie Bricusse's musical at The Lowry.
Based on the popular 1967 film with Rex Harrison, Doctor Dolittle stars Mark Williams (The Fast Show, 101 Dalmatians, The Borrowers, Shakespeare in Love and Harry Potter) in the title role together with Coronation Street's Vicky Entwistle and Brian Capron.
The first images and videos of the puppets have been released to much excitement, revealing artistry of the highest order to bring to life the Doctor's exotic menagerie of animal friends.
As Dolittle's life is transformed by his ability to talk to the animals, we can expect to have our eyes opened by a whole other world.
Follow the epic tale of the Doctor, his human companions and animal friends (most notably the Pushmi-Pullyu and Polynesia the Parrot)  on their quest to find the Giant Pink Sea Snail, that holds the secret of life and making the world a happier place.
More plot twists and turns than a curlywurly are set to keep you on the edges of your seat complete with magnificent sea voyage, shipwreck and the magic of Sea Star Island animal sanctuary, complete with Big Buggaflies, dodo, unicorn and baby mammoth.
Although totally entertaining, there are some real messages of animal (and human) rights. Author Hugh Lofting first dreamed up Doctor John Dolittle in his illustrated letters to his children, written from the trenches during the First World War. It's both heartwarming and poignant to know that such much-needed tales of magic escapism from reality can endure the test of time.
We can expect a quality musical adventure, from the producers of Chitty Chitty Bang Bang and The Addams Family.