Disrupt? Peterloo and Protest at People's History Museum
Sara Jaspan, Exhibitions Editor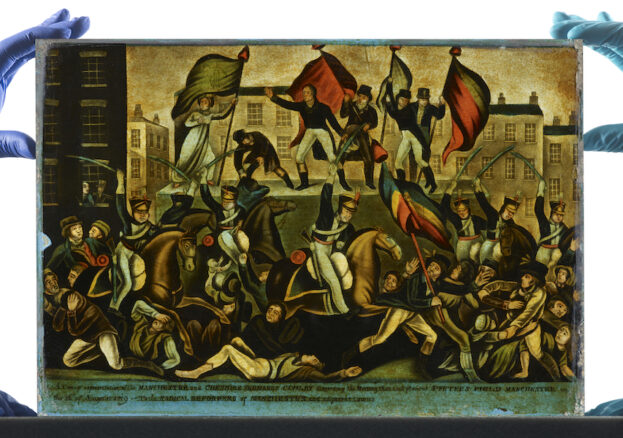 Last chance to see! Catch a major exhibition that examines the factors leading up to the Peterloo Massacre and its significance as a watershed moment in the history of UK democracy.
On 16th August 1819, 60,000 people gathered at St Peter's Field (now St. Peter's Square) in Manchester in peaceful protest in favour of parliamentary reform – only 2% of the British population had the right to vote at the time and Manchester did not have its own Member of Parliament to voice its population's concerns about falling wages and rising food prices. The day ended tragically, however, when local magistrates ordered the Manchester Yeomanry to charge upon the crowd, killing 18 men, women and children and injuring hundreds more.
Disrupt? Peterloo and Protest at People's History Museum marks the 200 year anniversary of the event, and takes visitors through the past, present and future of protest in a broader sense, using original artefacts some of which have never been on public display before.
One of the important themes highlighted within the exhibition is the experiences the women who attended the Peterloo protest and who were explicitly targeted by the yeomanry due to the high visibility of the white dresses they wore as female members of the reform movements.
The connection between the events of Peterloo and contemporary citizen activism is also told through a specially commissioned film featuring a range of locally and nationally familiar voices, including actor and activist Maxine Peake, journalist and presenter Krishnan Guru-Murthy, Greater Manchester Police Chief Inspector Tariq Butt and politician Angela Rayner MP. A section titled 'Protest Lab' provides a generative space within the show for individuals and groups to come together, develop ideas for collective action around issues facing us today, and present stories and objects related to their own personal acts of protest.
Visitors have contributed a fascinating array of items so far, including a mask created by cartoonist Polyp & Agitprops the Manchester 'No Shop Day' anti-consumerism street theatre protest, and a hacksaw donated by an individual who tried to break into BAE System's Warton Airbase to disarm Eurofighter Typhoons that were to be sold to Saudi Arabia.
Covering two centuries worth of protest and activism, and highlighting the central importance of revolutionaries, reformers, workers, voters and citizens along the way, Disrupt? Peterloo and Protest offers a genuinely inspiring experience in times of growing political apathy and disillusionment.