Under Glass at The Lowry
Polly Checkland Harding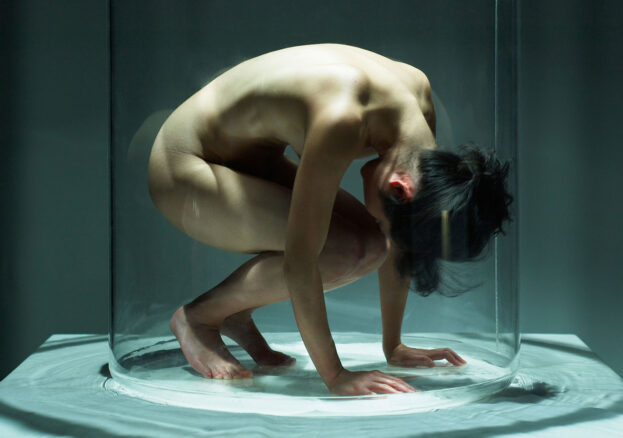 The Petri dish was invented in 1887 by military physician Julius Petri, who devised a pair of glass nesting dishes to replace the inconvenient bell jars previously used by scientists studying microbiology. This humble object became fundamental to scientific research, including a study in the late 1920s that found that the scarlet fever bacteria grew on milk, highlighting the importance of keeping it refrigerated. In Clod Ensemble's Total Theatre Award-winning production Under Glass, however, the Petri dish is put to entirely different use.
Coming to The Lowry after a sold out run at Village Underground in London, Under Glass includes a sequence in which a couple negotiates personal space while trapped within an outsized Petri dish – as well as performances from a woman stuck inside a giant glass jar, and a man forcibly hunched over his desk inside a glass box that doesn't allow for standing room.
As its title suggests, Under Glass is about scrutiny, privacy, containment and isolation. This acclaimed piece sees people attempting, with varied success, to live within a limited space – the details of their physicality showcased in a way that more closely echoes a museum exhibit, or medical laboratory, than a typical stage. Set to an original score by the co-founder of Clod Ensemble, Paul Clark, and text by the T.S. Eliot and Forward prize winning poet Alice Oswald, Under Glass demonstrates hauntingly that much can be revealed through confinement.