Castlefield Viaduct Tour
Carmel Smickersgill, Tours & Activities Editor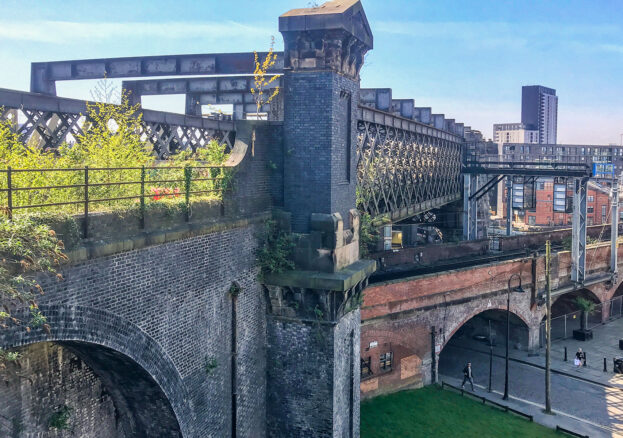 Manchester has been growing rapidly in recent years with the arrival of multiple tower blocks and new developments. It is great to see however that among these large glass and concrete structures new urban green spaces are also being created and championed. There's the large-scale Mayfield Park, the smaller hidden gems tucked behind the main roads like Sackville Gardens or Parsonage Gardens. However, by far one of the most unique urban green spaces is the Sky Park on Castlefield Viaduct. You can book your visit which includes a guided tour via the National Trust website now.
As you walk down the elevated ex-trainline you'll notice the garden areas shifting to transform this heritage ruin of the city's industrial past to a walkway that encourages nature to thrive and provides a much needed place of calm in the heart of the bustling city. Alongside the National Trust, local partner organisations have plots on the sky park. Enjoy planters curated by Hulme Community Garden Centre as well as Sow the City, whose plot features a fully functional pond.
The structure of Castlefield viaduct was designed and built by the same architects who made Blackpool Tower. Its sturdy structure and resilient form combined with an aesthetic, which we so associate with industrial strength, make a perfect foundation for a park which soars above the canal and literally lifts you out of the city.
There are plans to further develop the Sky Park which are currently being devised but are yet to be funded. After a tour of this truly unique space, you'll be as excited as we are to watch what happens next here.
Pre book onto tours via the National Trust website or just turn up between 1 and 3:45 pm to explore the Sky Park for yourself. The park will currently be open to the public untill 2024.