2022 Banner Exhibition at People's History Museum
Maja Lorkowska, Exhibitions Editor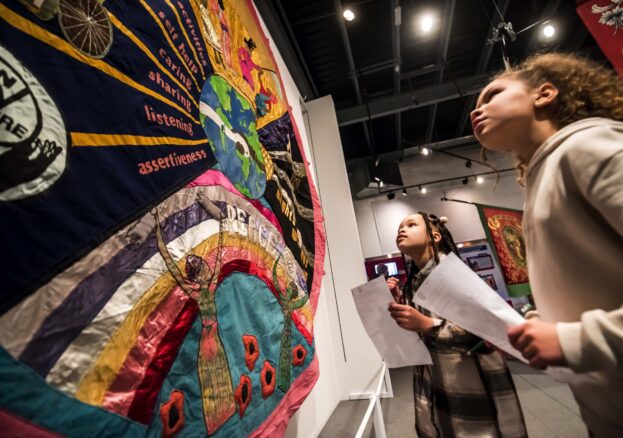 People's History Museum's (PHM) 2022 Banner Exhibition will take you on a journey through the history of rights and equality via its dazzling and bold collection.
There are some objects that recur throughout history, appearing at turning points of political change and social turbulence. Paper based media, such as posters, flyers and underground publications immediately spring to mind but we're going to take a closer look at that most noticeable and lasting of all attributes of protest and collective action – the textile banner.
Perhaps one of the largest protests witnessed by the banners on display at PHM were those happening as part of the Campaign for Nuclear Disarmament. The growing anti-nuclear movement in the 1980s attracted more and more members, and resulted in protests on an enormous scale, some of which were accompanied by the incredibly striking European Nuclear Disarmament banner. Depicting the peace sign with two white doves clutching olive branches on a deep purple background, the banner is a fantastic example of the fine line between craft which was put to immediate practical use, and a form of fine art to be simply admired, particularly now with decades of hindsight.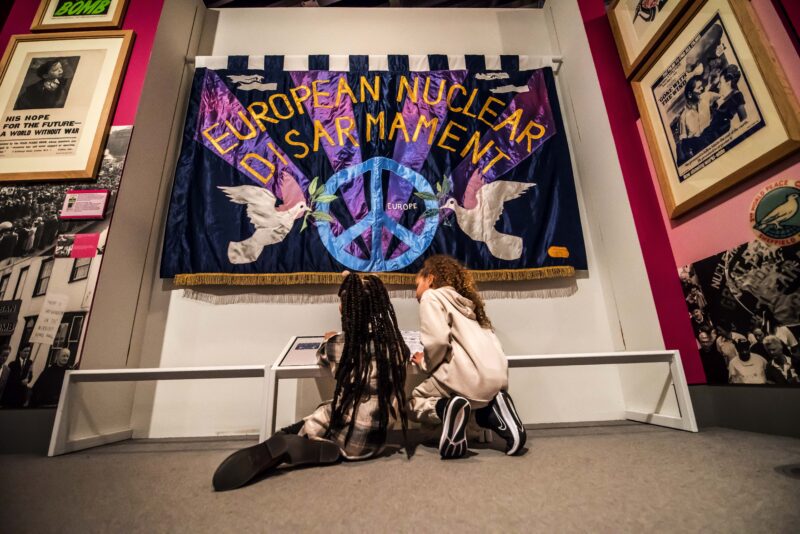 Other, more local examples include the Walthamstow and Chingford Solidarity Committee banner which was part of a 1930s movement when a series of hunger marches took place. At a time of the Great Depression and mass unemployment, many took to the streets, with the 100,000-people strong National Hunger March in 1932.
Many of the banners represent trade unions, including stories of their history and origins, such as the 1934 Trades Union Congress Dorsetshire Labourers banner in Main Gallery One and the Workers Union, Holloway Branch banner from 1920. Crafted with rich fabrics, painted silks and tapestry work, historic banners are examples of exceptional artistry, the results of which were used and reused in the many marches, protests and gatherings. Not only do they retain the energy of the causes they fought for, but the striking designs and visual appeal is in no way diminished by their age.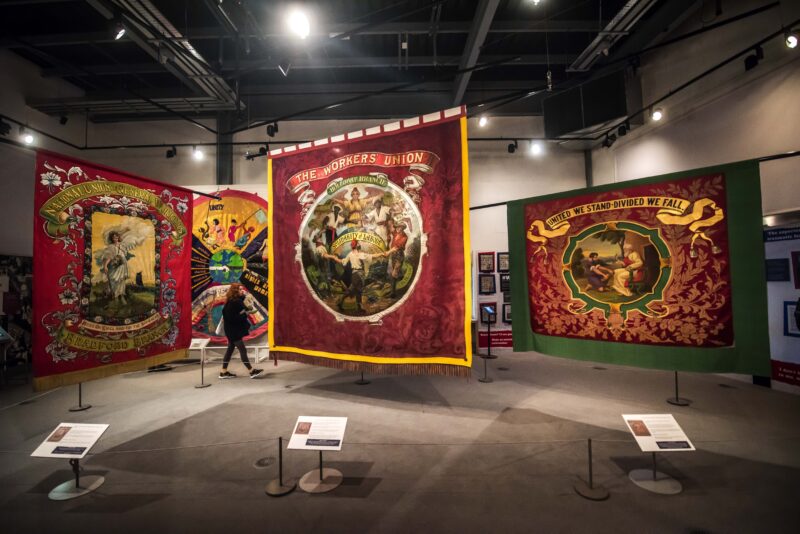 Some of the most memorable examples of banners include those created to show support by one group or organisation of another: look out for the 1985 Lesbian and Gays Support the Miners banner. Created by Mark Ashton, co-founder of the Lesbians and Gays Support the Miners alliance, the group championed and fundraised for the National Union of Mineworkers during the strike of 1984-1985. The banner, a firm visitor favourite, is a fantastically direct illustration of the group's support. It last made an appearance in the museum's display in 2017 when it marked the 50th anniversary of the partial decriminalisation of homosexual acts in England and Wales. Now is your chance to take a look at it again!
You will also find the Nothing About Us Without Us banner commissioned in 2015, that initiates a year of activity at PHM focusing on the history of disabled people's rights, activism and fight for inclusion. The symbolically-coloured banner, representing courage and ambition, is made up of 100s of patches, each one stitched on by a disabled artist from across the UK.
While banners are an important historical record of collective action, some of them clash with the way we experience the world today. Taking a contemporary perspective is artist Seleena Laverne Daye who created The Journey We Made Across Land And Sea, To Build A Country Not For Me banner. Working with PHM's Community Programme Team in 2021, the banner was made to give a voice to migrants, and honour those working in care, agriculture, hospitality and textiles.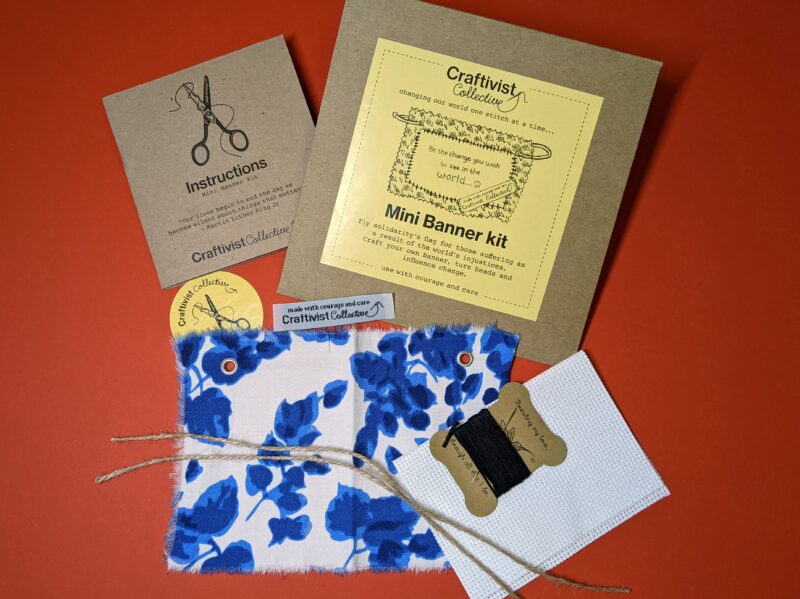 When you feel sufficiently inspired and energised by the banners through the ages, you can grab The Craftivist Collective's Mini Banner Kit in PHM shop (£12.99) – not only is it great fun, it also encourages you to "change the world one stitch at a time"! Including materials for cross-stitch, upcycled fabric with eyelets to hang your creation in a relevant public space along with some step-by-step instructions, the kit is a fabulous way to quietly influence change with the help of craft. All you need to do is decide what message you want the world to see.