Anthony (Vahni) Capildeo & Denise Riley at the Henry Moore Institute
Sarah-Clare Conlon, Literature Editor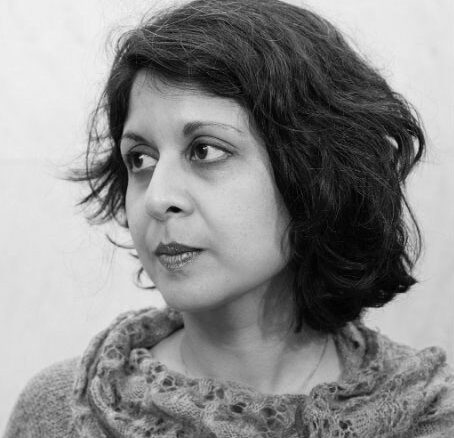 This in-person reading and discussion by poets Anthony (Vahni) Capildeo and Denise Riley is part of exhibition season The Weight of Words at the Henry Moore Institute, where Capildeo's ambitious new work is displayed on the façade. Anthony (Vahni) Capildeo and Denise Riley will read a sample of new and recent work, and discuss the impact of sculpture on poetry and poetics.
Trinidadian-Scottish poet, nonfiction writer and performer Vahni Capildeo was born in Port of Spain, Trinidad, in 1973 and moved to the UK in 1991. They are Writer in Residence and Professor at the University of York, a Visiting Scholar at Pembroke College, Cambridge, and an Honorary Student of Christ Church, Oxford. They earned a PhD at Oxford University, where they were a Rhodes Scholar studying translation theory and Old Norse. They completed a research fellowship at Girton College, Cambridge University. Their interests include plurilingualism, traditional masquerade, and multidisciplinary collaboration. In precise, layered poems and prose poems, Capildeo engages themes of geographic, intimate, and linguistic distances and proximities. They have published eight pamphlets and their eight poetry collections are No Traveller Returns (2003), Undraining Sea (2009), Dark and Unaccustomed Words (2012), Utter (2013), Measures of Expatriation (2016), which won the 2016 Forward Prize, Venus as a Bear (2018), The Dusty Angel (2021) and Like a Tree, Walking (2021), which was published by Manchester-based Carcanet Press.
London-based Denise Riley is a poet, critic and philosopher of language, born in Carlisle in 1948. Educated at Cambridge and Oxford, she is known for her ability to meld philosophy, feminism, lyric and literary history in books of poetry and prose, and her writings explore a spectrum of experience, from mothering and grief to art and radical politics. She is the author of the poetry collections Marxism for Infants (1977); the volume No Fee (1979), with Wendy Mulford; Dry Air (1985); Stair Spirit (1992); Mop Georgette (1993); Selected Poems (2000), and Say Something Back (2016), which was nominated for a Forward Prize for Best Poetry Collection. She also edited the collection Poets on Writing: Britain 1970–1991. She has been AD White professor-at-large at Cornell University, writer-in-residence at the Tate Gallery, and professor of poetry and history of ideas at the University of East Anglia. If you miss this, you can catch Denise Riley at the first Poets & Players of the new season.