Fancy a Slice? New Manchester pizza place, Slice, brings handmade pizza to the Northern Quarter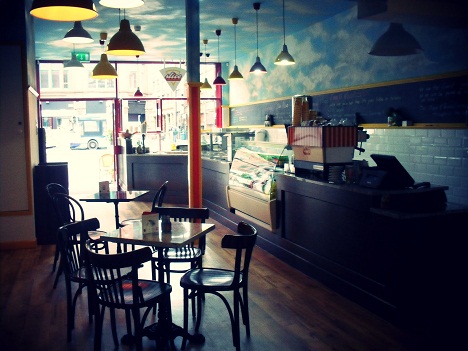 When was the last time you stumbled out of a bar and into a takeaway that served up food as fresh as Mama made? If your answer is "never", we're guessing you haven't yet found new Manchester pizza parlour, Slice. It's something of a new concept for takeaway dining in the Northern Quarter but although it may be new to Manchester, it's steeped in tradition; not of Manchester but of Rome.
The tiny café, tucked into a former clothing warehouse on Stevenson Square, has the layout of a rudimentary canteen but with its hand-built pizza oven on view. And it's this oven that makes Slice special. Every four hours the pizza menu changes so if you don't find your killer topping during lunch that's not to say it won't be there come last orders. Owners Liam Cassidy and Matt McGuirk have worked together for six years. For the last two they've concentrated on creating Slice, spending several months in Rome training and working with a specialist pizza chef.  Since returning to the UK their mentor has visited twice already so he's clearly precious about his techniques that he's handed down to the local pair.
The art of bread making is a complex business and Slice really had its work cut out from the start. Their original flour – hand mixed on the premises – has to be adjusted to take into account the damp Manchester air. Precision and quality are key here, there are no cutting corners and there's no compromising on good bases and breads. Liam and Matt start their day baking from scratch at 7am and stay open until 1am, all the while serving up sandwiches, bread and an ever-rotating pizza menu. There were five pizzas being brought out of the oven on my visit, including ham and leek, ham and mushroom and margarita. The simplicity of the menu shows that Slice are confident about the quality of their pizza. Both owners agreed that the margarita is their pizza of choice but as I'm reminded, it's not all about the pizza.
I tried a warm slice of focaccia. A hunk of bread made that day, dotted with rosemary and a few black olives with a crispy crust and shimmering with olive oil and plenty of salt crystals. This was incredibly light dough, lighter than any focaccia I've had before, and so much better. Simplicity is the winning formula at Slice, and never has simple tasted so good.
Slice, Stevenson Square, M1 1JJ, prices from £2 a slice. Open 12pm – 1am.