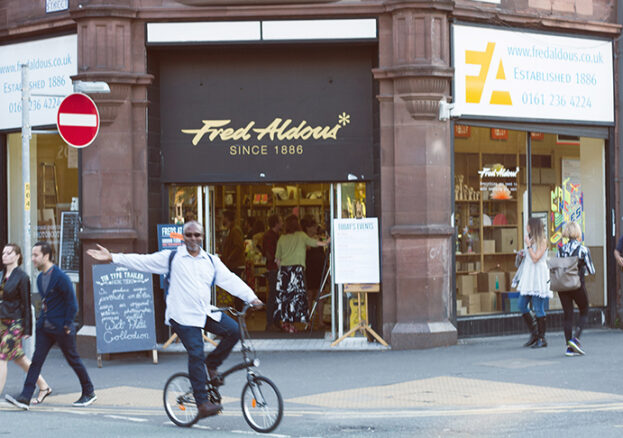 Nearly 130 years old and still going strong, the Northern Quarter art store stocks much more than just the odd paintbrush.
The worker bee has long been synonymous with Manchester's industrious ethos, and for good reason: the textiles industry was born in this former "Cottonopolis." Established in 1886, arts and crafts store Fred Aldous is very much a slice of that history, proving that our worker bee nature and penchant for crafting is still thriving. Fred Aldous came into existence when a mill worker of the same name realised that the way cotton was being carried around in bulky baskets was inefficient. He soon set about importing cane, willow and yeast and started his own basket-selling business. When the family trade was passed on to Fred's son (Fred the second), he began selling handicrafts, turning Fred Aldous into the shop we know today. Still a family run business (the shop is in its fifth generation), the store now sells over 25,000 products catering to the complete arts and crafts spectrum.
You can make just about anything with the products on sale here, from glass crafting to lampshade assembly
Located on the corner of Lever Street in the Northern Quarter, Fred Aldous remains true to its nineteenth century roots but with a modern edge. You can make just about anything with the products on sale here, from glass crafting and lampshade assembly to more of the run-of-the-mill hobbies including painting, tie dye and stencilling. The store also boasts a slightly intimidating metal work section that features an array of mallets, punches and saw blades. The space itself is light and airy, bucking the "shabby chic" trend so popular with the surrounding vintage shops. A black-and-white photo booth in the corner lets customers make their own retro photo strips, and there are plenty of unusual gift ideas and "back to school" essentials alongside the art and craft materials. Plus, the staff are super friendly (and some have been there for over 40 years) and more than willing to help you out with getting the right materials for whatever it is you want to make – even if it's still in the concept phase. Fred Aldous is always an appealing visit, whether you want to make paper chains or craft something a bit more sophisticated.