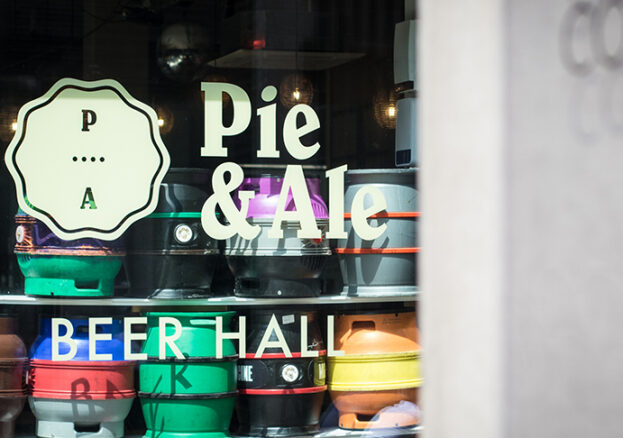 Artisan pies, craft beer and the Northern Quarter: some things just seem destined to be together.
Pie & Ale, located in the Northern Quarter Arcade off Stevenson Square is all sleek blond wood, relaxed booths and designer-y light fittings. It's also like a big target for any hipster-related disdain one has for the neighbourhood. Well, let the haterz hate. Because these pies are good pies. These ales are good ales. And we say any place serving them up so capably deserves our custom.
Let the haterz hate. These pies are good pies. These ales are good ales.
Pie & Ale is part of a mini-Northern Quarter food and drink empire that includes pizza and pasta place Dough, Apotheca Bar and Bakerie, the latter a restaurant and a bread and wine shop across two locations.
The pie joint is next door to the Bakerie shop, where a changing selection of pies are baked daily; their heavenly aromas promised a good lunch. But first: the ale. After the barman and my companion finished comparing beard-grooming regimens (and no, I'm not even being sarcastic here), he was kind enough to let us sample the five craft beers they had on, from a changing roster heavy on small North West breweries. Standouts included the hoptastic Ava from Ramsbotttom's First Chop, and new Mancunian brewer Privateer Beers' quaffable and refreshing Dainty Blonde. There's also an enticing selection of bottles, with some unusual beers from afar (courtesy of the antipodean bar manager), and a respectable collection of whiskeys if you want something stronger. The beer-based cocktails sound slightly less promising, but full marks for creativity. For the daytime crowd, there's tea and coffee, as well as electric sockets at every table, and (wait for it) free pie-fi.
On to lunch. The two pies sampled were excellent specimens with just the right ratio of flaky crust to filling. Pork and Apricot couples chunks of tender, seasoned meat with plenty of veg (not much apricot in evidence, but no bother). My friend's Cajun Chilli Beef was hearty, cumin-scented stuff. We were disappointed mash wasn't on that day, but that was before we tasted the new potatoes – crushed with garlic, mustard and herbs – and the moreish sweet potato wedges. With a side of creditable mushy peas, it makes for a rib-sticking meal at a reasonable price. Best of all, they give you your own jug of gravy to pour on, a savoury golden liquid that has certainly never seen a Bisto granule in its short and delicious life. We left determined to return soon. National brand Pieminister has a shop in the neighbourhood, but we'll back these golden-crusted Mancunian beauties all the way.