We've just had word that the author, essayist and psychogeographer, Iain Sinclair is in Manchester tomorrow (16 July) to launch a new publication, Corridor8. This rather beautiful annual arts magazine spans the full artistic spectrum – Issue 1, for example, features architect Will Alsop, graphic designer Peter Saville, the artist Linder Sterling and Danish digital art collective, Superflex.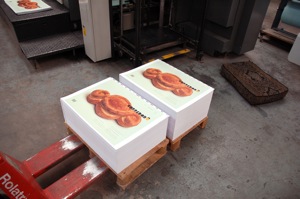 Corridor8 commissioned two new works from Sinclair. In the first, the author trekked across the 'SuperCity', with the resulting words and images of Northern England gracing the pages of the newly minted arts magazine. The second was a shorter, sweeter ramble through Manchester, seen through the eyes of a writer who is at once deeply romantic (he writes of 'rivers of human traffic') and worldly wise (Sinclair notes Manchester's pockets of wildlife, flourishing in a way that never could in the 'toxic run-off from Olympic piracy' in London).
On 16 July, Sinclair relives this latter walk as part of the launch of Corridor8. It's a rare chance to meet one of Britain's leading psychogeographers – and to ask him why, perhaps, he has finally been tempted to write about the North.
Corridor8 launch, Urbis. 16 July. Free, but places limited to 100. Email si@corridor8.co.uk or visit website to register.
Image courtesy of Dust Studio.