As David Shrigley puts the finishing touches to his Cornerhouse exhibition, we try and pin down a most puzzling artist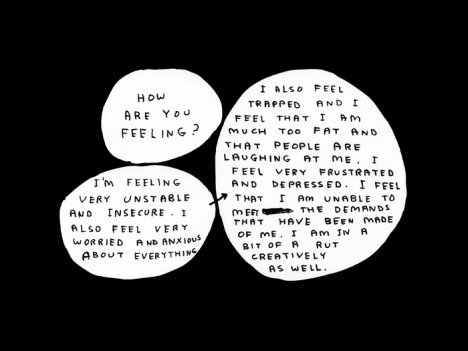 David Shrigley is darkly, disarmingly funny. His survey show at the Hayward Gallery earlier this year was evidence of a mind that ploughs a surreal furrow: witness the stuffed dog in a glass case, standing on hind legs and holding a sign that says, "I'm dead", or the fact that two rooms in the show were connected by a crawl-through hole in the wall (which brought new meaning to the phrase "whale tail").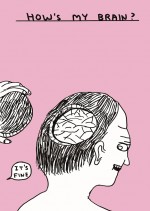 Shrigley is also something of a conundrum. Perhaps best known for his cartoons in the Guardian's Weekend magazine (which ran from 2005-2009), he is also a highly successful contemporary artist – albeit one who treads the line between popular culture and high art. One of those cartoons, for example, poked fun precisely at the kind of white-walled gallery set-up that David Shrigley also exhibits his work in: witness a man and young son, staring at a decapitated head in a glass case, bluebottles buzzing around inside. "What is it, Daddy?" asks the little boy. "It's bloody brilliant, son, that's what it is," declaims the father of the macabre sight.
But that's probably the point. Shrigley has spent a career prodding and poking those things that we don't like to think about too deeply, from art-world hot air to, in the case of his latest exhibition at Cornerhouse, the mental state of the nation. HOW ARE YOU FEELING? opens in October, a mix of performance, sculpture and drawings. "The public will interact with the exhibition more than the Hayward show, where you were visiting objects you were not allowed to touch," says Shrigley. "This will be more interactive and you can participate in the works. I want to make some sculptural work you can be amongst."
"All of my work has an element of questioning one's mental health – it seems to be the sort of thing I have been drawn towards for a long time."
With much of what we're about to experience being made during a 12-day residency immediately prior to the exhibition, there's not yet much to describe (Shrigley apologised for the lack of definite information "in advance; what is going into this show is still being decided"). What he can tell us is that the exhibition has a very definite starting point. "It's the theme of self-help," he says. "I realised that all of my work has an element of questioning one's mental health – one's emotional make-up, and making statements about one's aspirations or mistakes with regard to one's emotional wellbeing; it seems to be the sort of thing I have been drawn towards for a long time."
"It's always been there in my work," he continues, "and so I've just decided to make it more explicit – I've never done that in an exhibition before. I usually start with a work or a series of works but this show is more explicit in starting with the theme first."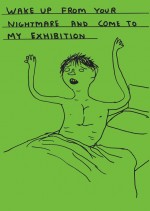 This idea, of self-help, emerged earlier this year, via a 75-foot billboard 'exhibition' in New York. Here, Shrigley's Q&A drawing posed the same question as the title of his upcoming show, how are you feeling, to which the reply was one that could basically be summarised as not actually very good, thanks. Part of a public art programme for the High Line (a former elevated railway converted into one of New York's most striking public parks), the billboard was described at the time as a "daily reminder that we can overcome our worries with humour."
If sometimes that sense of humour seems innately British, the High Line artwork is an indication that Shrigley's work has an audience outside of this sceptred isle. "I suppose my work must feel British but I don't know; the cultural references are different but I like to think I wouldn't have been successful if my work didn't have some universality. It wasn't chosen just for its Britishness."
Shrigley is right, of course. There is something about his work that feels universal. That mix of certainty and uncertainty, black humour and vulnerability, seems to chime with where the world is at right now. His work reminds me of that brooding kid at school, the one who went on to become someone but who was forever perplexed by how they got there. This exhibition of mostly new work in Manchester may well shed more light on David Shrigley, but is just as likely to further muddy the waters. His work is a puzzle, one which even he seems unable to solve. As the artist himself says, when pressed as to why his work is as popular abroad as it is at home, "you cannot see yourself as other people see you".
David Shrigley: HOW ARE YOU FEELING? at Cornerhouse, 6 October 2012-6 January 2013, free. HOW ARE YOU FEELING is curated by Manchester's own Mike Chavez-Dawson; it's also part of The Manchester Weekender (see Saturday listings). David Shrigley's new book HOW ARE YOU FEELING?, published in tandem with the exhibition, will be published by Canongate on 4 October 2012 (£12.99).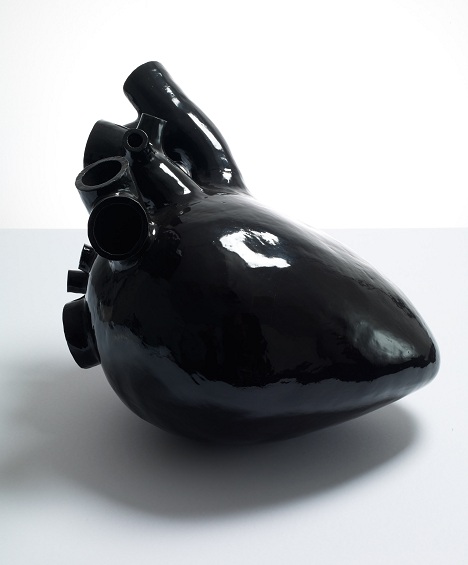 Images (top to bottom): How are you feeling, for High Line Billboard (April-May 2012), courtesy David Shrigley; David Shrigley, How's My Brain (2), Copyright and courtesy the artist; David Shrigley, Wake Up (2012), Copyright and courtesy the artist; David Shrigley, Black Heart (2012), Glazed ceramic, 50 x 63 x 44cm, Copyright and courtesy the Artist.