York City Walls / Wall Trail
Ian Jones, Food and Drink Editor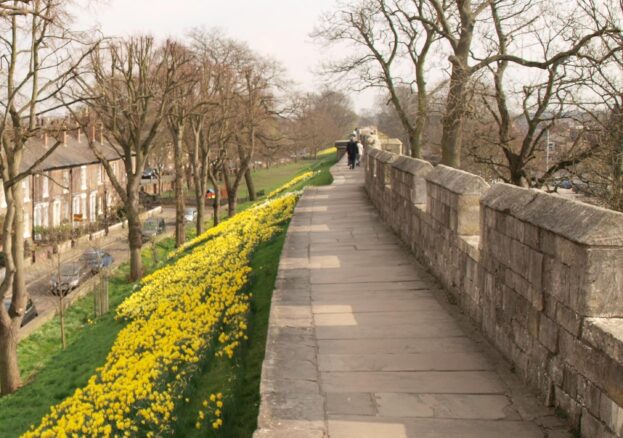 Variously known as York City Walls, the Bar Walls and the Roman walls, these structures have defended York for centuries, dating back to Roman times. To this day, substantial portions remain, and York has more miles of intact wall than any other city in England.
These 700-year-old city walls also make for the perfect way of getting around the city. The 13th-century structures are built on top of earthworks which themselves contain the old Roman walls, and were patched up in the 19th century to make a safe, walkable route.
The circular walk takes roughly two hours. There are four main gatehouses – the famous 'bars' to which you'll hear references all around York – and two smaller more recent gates, plus a charming postern still defended by its medieval tower. Towers dot the walls and the structure is packed with details for the historically minded. One section of the walls runs past the Museum Gardens, where you can see a surviving stretch of the older Roman fortress walls. There's also a multilevel Roman and Medieval tower, plus portions of St Mary's Abbey.
Each section holds exquisite views and histories. Of special interest is Bootham Bar, with its views of the Minster and the Gallery, which is also the site of a brief siege that culminated in the battle of Myton. Monk Bar features the small but fascinating Richard the Third museum, where guests can learn about the ill-fated Plantagenet King and judge whether Shakespeare was fair on him. The section from Walmgate to Micklegate takes in the Fishergate postern tower mentioned above, as well as providing access to the York Castle Museum.
The wall trail is a great way to get your steps in as you visit York, and soak up the evocative urban landscape.