Ambiente
Ian Jones, Food and Drink Editor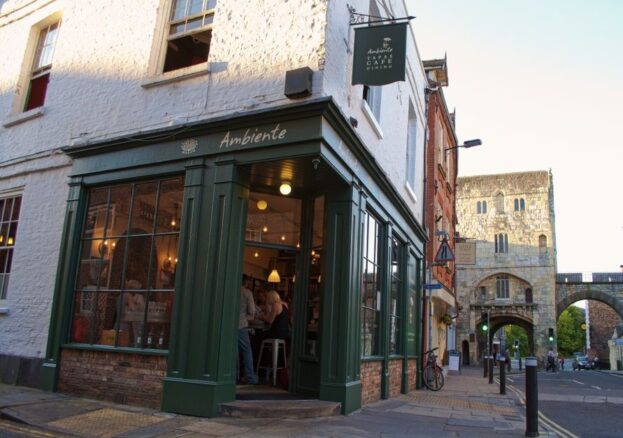 Situated just inside the walls in a cosy Georgian building, Ambiente serves up fine Mediterranean small plates, accompanied by your choice of over fifty wines and sherries. The restaurant features a bar area for quick lunches and mid-shopping trip wine stops from 12 am onwards, alongside a traditional sit-down meal area for the evening guest. Expect an intimate candlelit atmosphere with the perfect level of sound and heat, or ambience, you might say.
The menu includes Boquerones – the real anchovies you can't get in shops – and a cheese platter of San Simon, Payoya, Picos de Europa and Tetilla. There's a Mejillones a la marinera – mussels steamed in wine – and some classic black pudding croquettes. The Tagine de Cordero promises tender slow-cooked lamb, and, of course, calamares fritos.
To drink, you'll find a huge range on offer. Star attractions are the Sherry Flights – matched selections of sherries brought to your table. These include Olorosos, PXs, and a selection of creamy sherries hard to find elsewhere. Spanish gins are represented too, including Larios, and you'll find plenty of Chardonnay and Cava. Knowledgeable staff will help you match a drink to your meal.
Nearby attractions include the historic Minster cathedral itself, as well as the Minster bookshop which promises a pleasant browse for the literary, and the Bloody Tour of York – perhaps do this last attraction before eating. And should you be inspired by Ambiente's cuisine, why not pop into Rafi's spice shop down the road to stock up on ingredients?
Ambiente also offers takeaway versions of all its dishes for those staying at home, or visitors who fancy a lazy night in at their hotel or rented accommodation.