YO! To Go Manchester Piccadilly Station
Ian Jones, Food and Drink Editor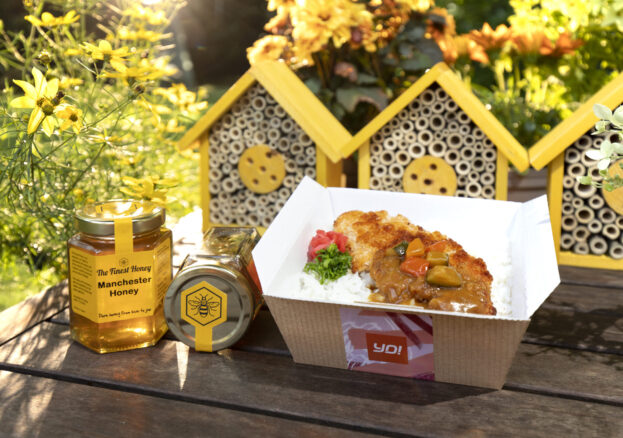 A reliably excellent option when it comes to picking up top-quality Japanese cuisine, the YO! To Go Manchester Piccadilly Station branch has turned many train journeys into a treat. We're surrounded by beautiful countryside in the North, and a wilted ham and cheese sandwich just doesn't do it justice. The deceptively filling dishes on offer at YO! To Go, however, hit the mark perfectly and we're delighted to see the venue reopen at the end of July with a bunch of new dishes that have the added bonus of providing support to the local bee population.
They're well-known for their maki, gyoza and temaki offerings, but these four new items raise the bar a good few notches, and not only in the taste department. The dishes include Worker Bee Katsu Chicken Curry, Worker Bee Katsu Roasted Cauliflower Curry, Worker Bee Sticky Honey Karaage Bites and Worker Bee Honey Mayo Pumpkin Bites, and purchasing each one also gives a 50p to charities working to preserve the bee population in Manchester.
New dishes with the added bonus of providing support to the local bee population
The sticky honey bites do exactly what it says on the tin, they're coated with thick, sticky and delicious honey which take the soft chicken to the next level, while the honey mayo pumpkin bites have a beautiful crisp outside layer with soft, moreish mashed pumpkin inside, that pair wonderfully with the honey-infused mayonnaise. The roasted cauliflower curry is impressive, both in size and flavour, with one portion easily enough to fill any rumbling stomach, with subtle honey flavours working wonders with the mini cauliflower florets.
Emily Donoghue, Store Manager at YO! To Go Manchester Piccadilly said: "These four limited-edition dishes have been created to celebrate and fuel Manchester's worker bees as they return to the city's offices. After months of working from home and boring beige lunches, we want to bring much-needed colour and excitement back to lunchbreaks! We can't wait for people to try them."
Lee Sheldon, co-owner of The Finest Honey who are providing the honey for the dishes said " We really believe in what we do and we're committed to supporting our community. We're thrilled to be providing the key ingredient for these exciting YO! dishes, and grateful to YO! for offering to donate a portion of sales to help us continue our support of charitable initiatives. Our mission is to protect Manchester's all-important bee population. After all, we couldn't do what we do without the bees!"
Worker Bee Curries can be ordered through the YO! To Go app or in-store.