Bistrotheque
Francesca Wilson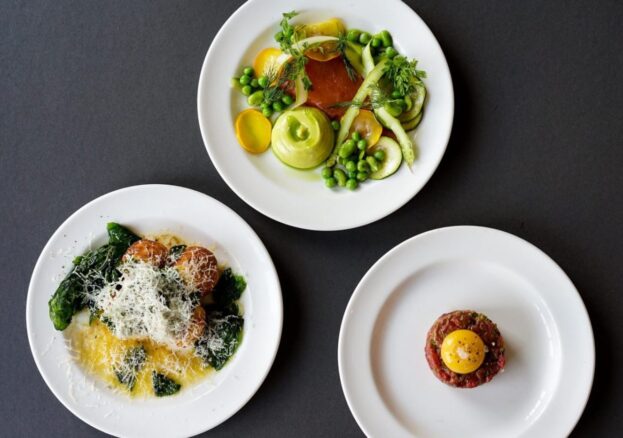 Update: We recently had the pleasure of attending a special event at Bistrotheque, featuring Jeremy Lee, the head chef of London's historic dining room and private members' club Quo Vadis. It was the inaugural event in the new series, A Book From My Kitchen, and here Jeremy prepared a range of glorious dishes from Elizabeth David's classic cookbook An Omelette and a Glass of Wine.
The dishes ranged from baked salsify scattered with grated parmesan – a simple but moreish snack, ticking all your cheese-related needs; a smoked eel sandwich that was much more than the sum of its parts, a bitesize portion of subtle smoky flavours; Grillade des Marinieres du Rhone, aka beef stewed in red wine, paired with a comforting parsley and mustard mash, certainly not the most attractive dish you'll see all year, but probably one of the richest and most intoxicating beef stews to be found in Manchester this winter; and a host of desserts, including a big plate of gloriously decadent walnut meringue and lemon curd.
More than that, it proved to be a wildly fun evening out. A way to catch up with old friends, make new ones, all while enjoying some excellent cooking, equally great paired wines in suitably festive surroundings. Here's to more of the same in the future.
Review:
Bistrotheque is the showcase restaurant at new cultural hub Cultureplex, with seasonal menus by experienced head chef Blaine Duffy.
I don't know about you, but Thursdays are my new Fridays. I'm more than happy to stagger through Friday, navigating my way through my inbox bleary-eyed if it means I get to taste that delicious bite of weekend even just one day earlier.
Transforming from a railway goods warehouse to what feels like a movie set
Cultureplex on Ducie Street has recently undergone a makeover, quickly transforming from a railway goods warehouse to what feels like a movie set, or at the very least a sneak peek into The Kooples autumn/winter 2020 feature spread. Wander in, and you'll soon find yourself in the hands of Bistrotheque, who are more than qualified to ensuring your faux Friday is nothing less than fabulous.
We start with bread, smothered in whipped butter and oysters – a "pre-menu-grazing-course" that I intend to carry over to all future dining experiences. The wines are exquisite, and the team are more than happy to give you their recommendations.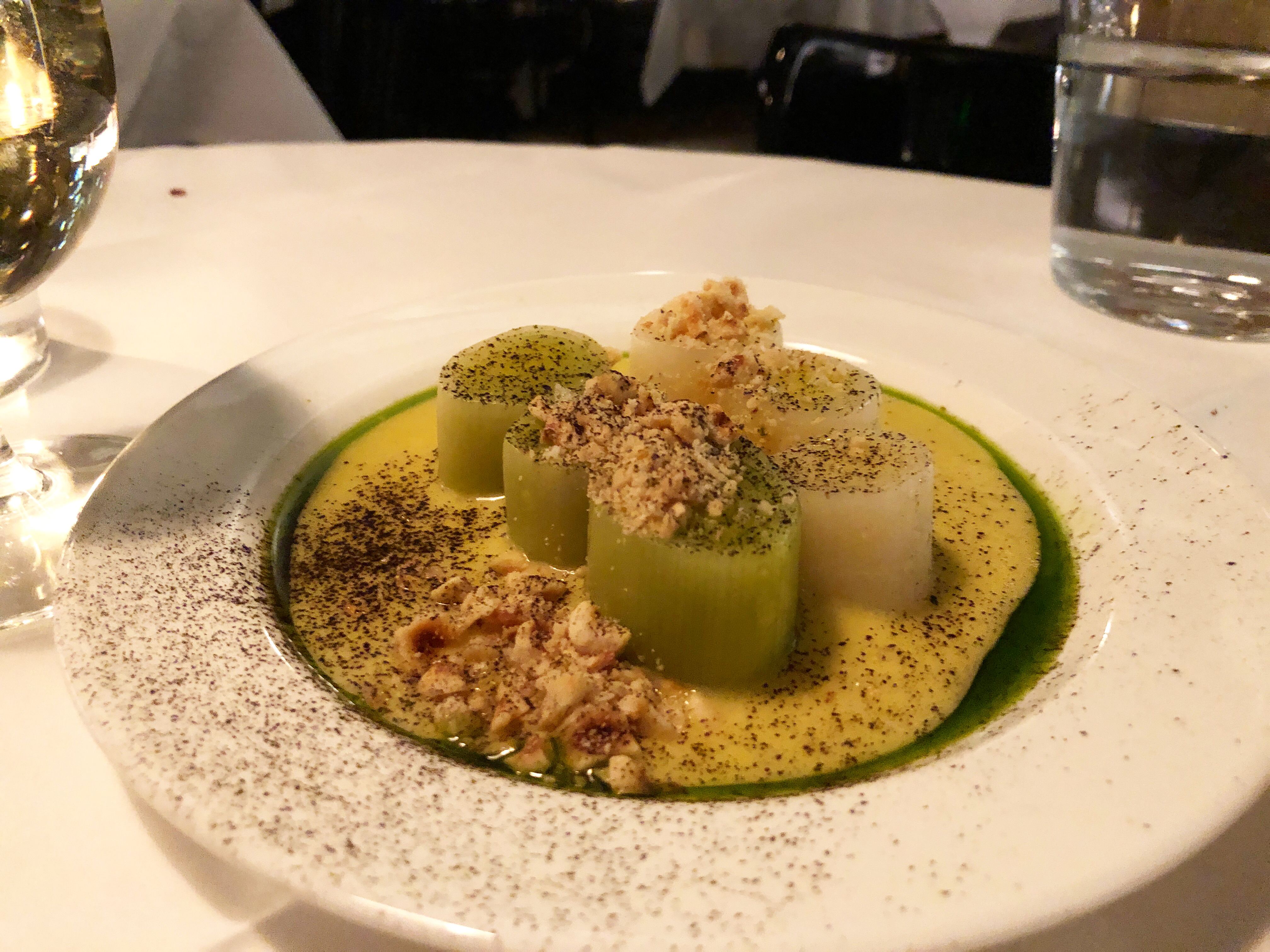 The menu itself is a cornucopia of rich, decadent delight. To start, duck rilletes. The sharp flavours are reminiscent of a deconstructed Reuben sandwich (with a twist) and tastes gloriously French.
The leeks vinaigrette were very pleasant, savoury bites of softened leek with a divine crunch of toasted hazelnuts atop – not satisfying enough as a starter, but something I'd love to have on the side of a steak.
The braised pressed pork is not for the fainthearted
Our choice of mains were heavily influenced by the autumn awakening experienced by Manchester this week – no longer can I live in opaque denial as I find myself adding an additional layer every time I leave the house, and still inevitably suffer the damp handprint of a soggy leaf which stows away onto my walk through town.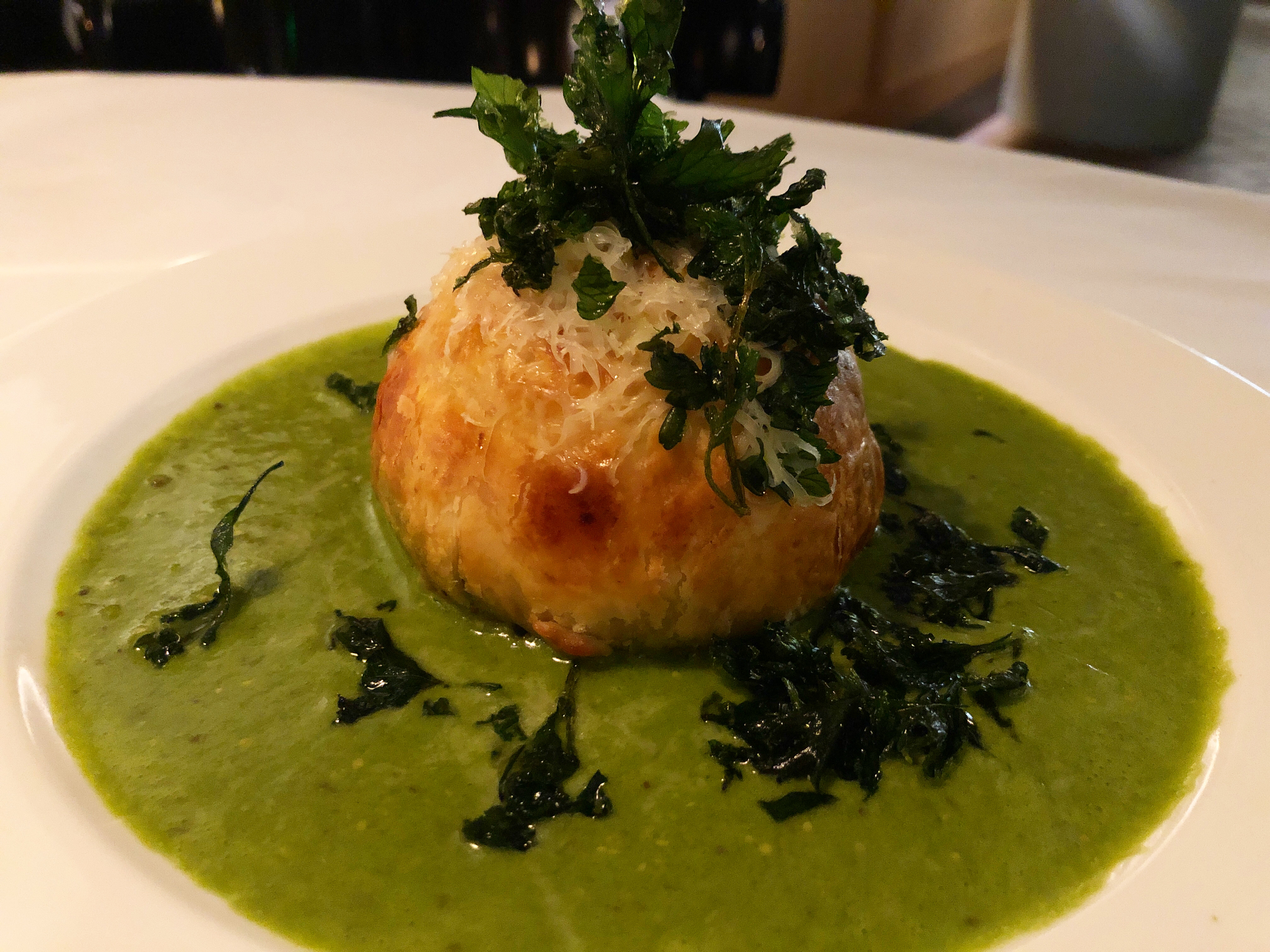 Tonight, we plumped for an extra layer on our tummies. First, the braised pressed pork – a dish not for the fainthearted (quite literally, this plateful could build up the healthiest of arteries, but in the most delectable way). Topped with crispy shallots and paired with a sensational goop of pickled walnut sauce.
The potato and comté pie was potentially the most satisfying thing I've tasted this year
Now, on to the star of the show. The dish every member of the team had to namedrop into every conversation we had, the potato and comté pie. I don't want to oversell it, but it was potentially the most satisfying thing I've tasted this year.
Gently press the knife through the golden, flakey crust coat, to unleash a pleasing ooze of buttery cheese. The potato, almost latke-like (in no way fried, but with the same textural bite of potato), serves as the strong base – the three elements are a force to be reckoned with when combined on a fork and bathed in the accompanying green mustard sauce. It's a dish I was disappointed to see come to the end – I'd happily eat it forever (and live with the gout).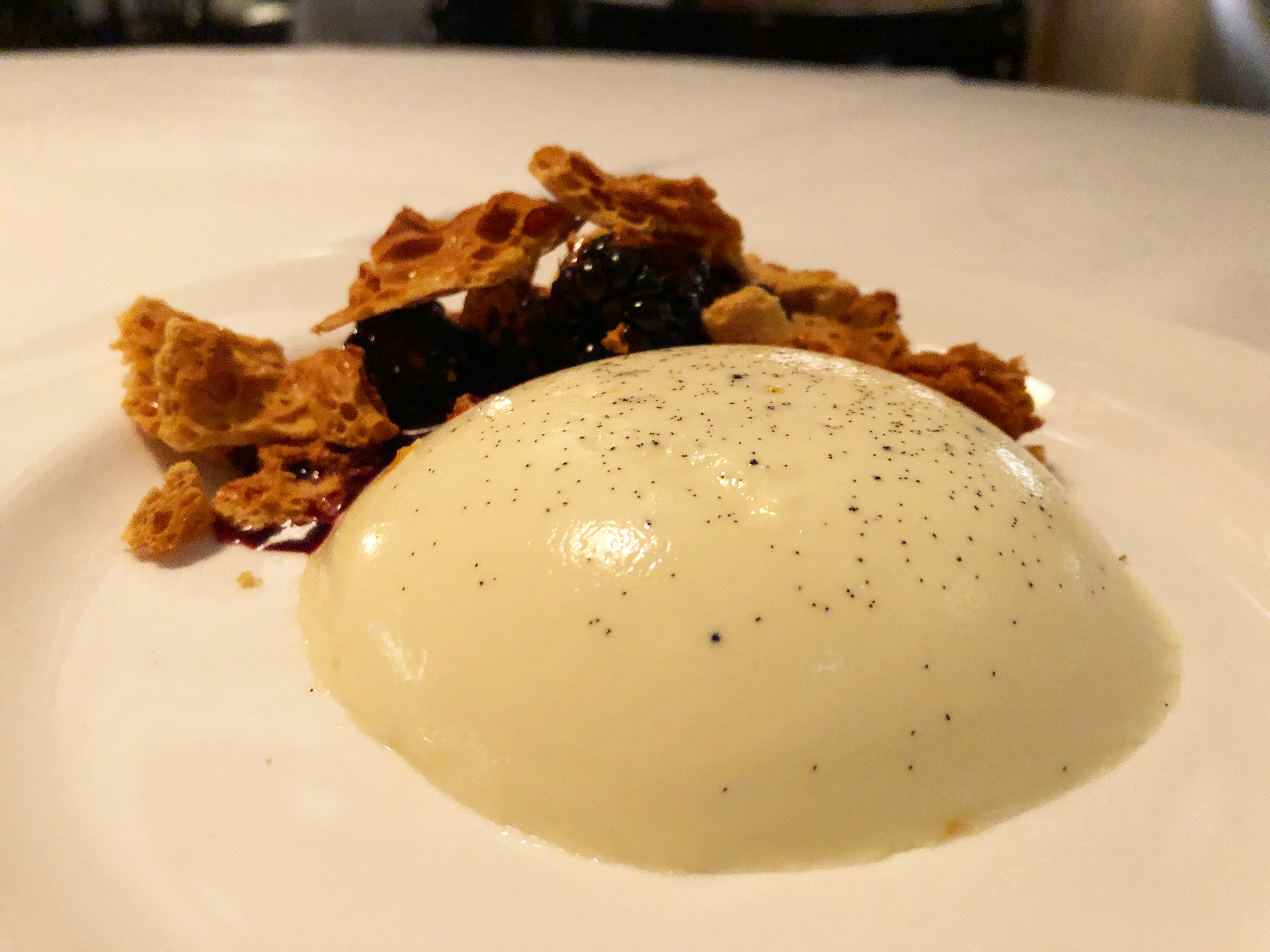 You'd think by now, we'd have had our fill – but we are nothing, if not keen opportunists with our eyes on the prize, more specifically the pannacotta pud, complete with blackberries and honeycomb. It's the sweetest way to end our evening, simple but executed perfectly.
I already can't wait for my next visit to Bistroteque which is sure to thrive in its secondary home, just on the cusp of the Northern Quarter. Weekends welcome brunch-goers while the evenings are exclusive to escapism.