Hull and East Riding Museum
Polly Checkland Harding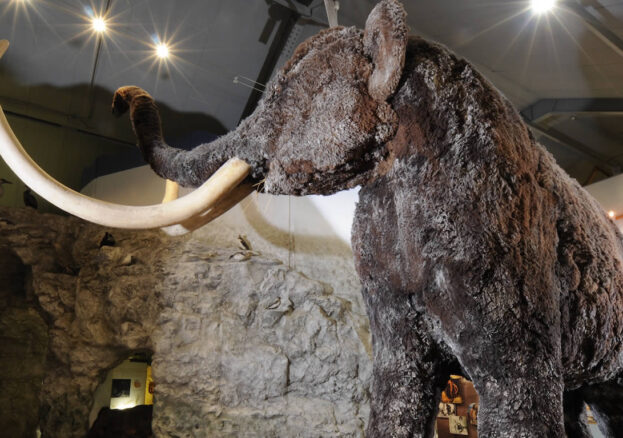 The Hull and East Riding Museum of archeology offers a detailed, immersive introduction to history, reconstructing ancient civilisations for visitors to explore – you can walk through an Iron Age village or enter a Roman bath house and look at the stunning mosaics.
Through life-size tableaux or reconstructions of rooms and buildings, the galleries cover 235 million years of history, displaying items found in the area from the prehistoric to the medieval era alongside the remains of exotic, extinct animals. Discover the strange and wonderful creatures that once swam in the waters that covered Hull and East Riding during the Jurassic period, stand next to a full-sized model of a wooly mammoth and touch real fossils. 
The galleries begin in the Bronze Age, 2,000-6,000 BC, with displays of beautifully crafted pottery beakers and food vessels alongside axes, swords and daggers. It's here you'll find the mysterious Roo Carr figures from around 600 BC, believed to either represent warriors and gods, or to be votive offerings: made from yew wood with stone eyes, the figures were discovered with a serpent-headed boat in a ditch in East Yorkshire.
The Iron Age follows, brought to life with a full-size reconstruction of a settlement, complete with thatched roundhouse and two-horse chariot. There's also a giant oak log boat, dating back 2,300 years, that sank while transporting its cargo of beef and wood. Further on is Roman Britain, where you can explore a tax collector's office and a mosaic maker's workshop, the Saxons and Vikings, and finally Medieval and Early Modern Hull – where objects from daily life reveal the workings of religion, agriculture, crafts, trade and travel in the area from 1066 to 1642.
Many of the objects in the museum's collection were discovered by one of the most important amateur archeologists of the 19th century, JR Mortimer, a man whose meticulous excavation practices and careful recordings helped to set modern standards for the discipline. Mortimer's methods and examination of hundreds of burial mounds across the Yorkshire Wolds were a nationally important contribution to the practice in Britain – and later a great addition to the museum's collection, with stone tools made by the earliest settlers among his findings. The Hull and East Riding Museum, then, is a record of ancient history, and testament to the people who've helped uncover it over the years.