Vapiano Manchester
Ian Jones, Food and Drink Editor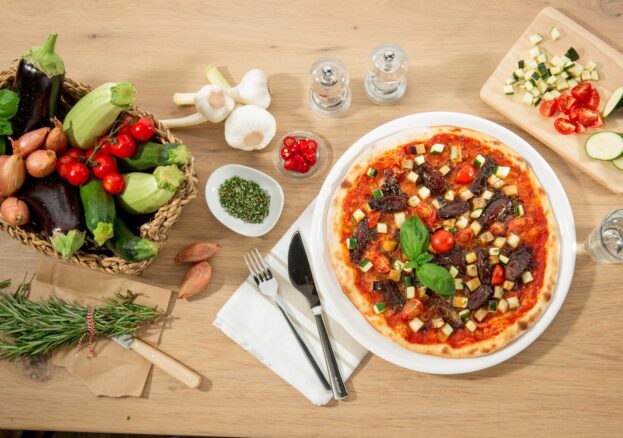 Vapiano is a pizza and pasta bar that takes up a hefty slice of the Corn Exchange food court. Despite serving up Mediterranean dishes, the chain originated in Germany and now has over 60 outlets around the world, with Manchester the UK's only branch outside of London. The name comes from an Italian saying about having a relaxed, healthy approach to life and the restaurant is a suitably laid-back space, brightly-lit with chintzy mall music playing in the background.
The ordering system is an attempt to speed things up but it's a headache to navigate, involving swipe cards, queues and scanning machines. It may make sense in some far-off European city, but the average diner may wonder if the age-old system of waiting staff and cash really needed an upgrade, or if it's just a mildly annoying gimmick. Nevertheless, it's nice to chat with the enthusiastic cooks while they prepare the food, and it's refreshing to be able to fine-tune each dish as it's made. It's easy to imagine this system leading to frustration during busy times, with lengthy queues of hungry diners, but today it works well.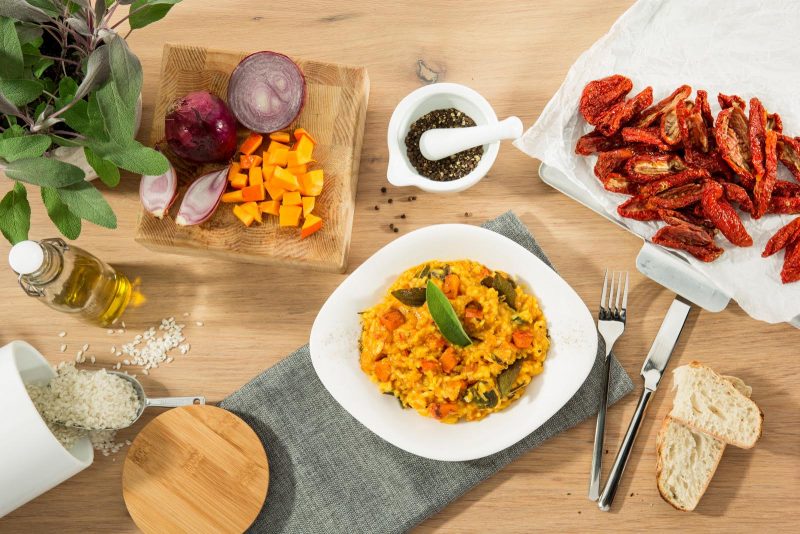 Vapiano have a selection of vegan dishes, so it's only right to opt for one of each: pizza, risotto and pasta. Sticking firmly to this self-imposed vegan rule, the offer of cheese sprinkled on the pasta is declined, though it's puzzling that vegan cheese isn't an option. Vegan wine is on the menu, so we have a glass of each, red and white. Wine isn't veggie-friendly? Apparently not. It's down to the final stages of wine-making when animal products are used to stabilise the wine to ensure it doesn't take on any other flavours. Science aside, the wine is perfectly adequate. Perhaps a lack of depth can be detected on close analysis, but overall they're fine and easy on the tastebuds, particularly the Montevista Merlot.
The vegan pizza, or to give it its full title, the con cipolle balsamico, is excellent. A slight, chewy base, neither too crispy nor too stodgy, comes smeared with a homemade tomato sauce and scattered with bouncy cubes of aubergine and plump cherry tomatoes. Long slices of impossibly sweet red onion complete the dish, making for a substantial, hearty meal. The lack of cheese is odd at first, but the perfect balance of toppings more than make up for it.
Perfectly-cooked risotto rice comes in a delicate sauce made of orange juice, vegan white wine and a subtle blend of lime and ginger.
The risotto, aka zucca caramellata, is even better. Perfectly-cooked risotto rice comes in a delicate sauce made of orange juice, vegan white wine and a subtle blend of lime and ginger. Silky soft lumps of pumpkin pepper the dish, and a splash of coconut milk gives a glossy feel without overpowering the other flavours. Aficionados may scoff but the lack of Parmesan goes unnoticed. It's a well-rounded dish, a sleek orangey blend of carbs with an irresistibly moreish aftertaste. It's a small portion compared to the other dishes, but that merely means it's food enough for one, rather than two.
The vegan pasta dish (funghi bolognese) comes with a choice of handmade pasta shapes. Although tempted by the aeroplane-shaped kid's pasta, the freshly made pappardelle seems the wisest choice. It holds the homemade sauce well, which in itself is a solid healthy option, mixing up finely-chopped onion, mushroom, carrot and celery with a zingy splash of soy. While not the standout dish, there's plenty of bang for your buck and it's easily enough for two hungry people. Due to the sheer amount of pasta it's advisable to ask for plenty of spice, to give it an extra kick.
As an unrepentant carnivore, these dishes haven't turned me into a born-again vegan but they're a decent option for those looking for a light, fresh, meat-free meal. Unusually, the menu doesn't list calorie information. It's a missed opportunity. If more nutritional details were given Vapiano could become the go-to place for dieters and healthy eaters. Regardless, it's a pleasant place to go for a casual meal, but carrying a bowl of pasta around does bring back memories of trudging around a school dining hall. And while the prices are fairly cheap, they're not school dinner cheap.