Rosa's Thai Manchester
Ian Jones, Food and Drink Editor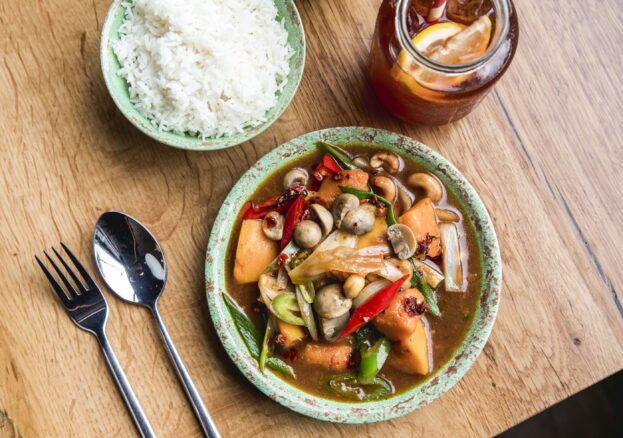 Rosa's Thai opened shortly before lockdown hit, in a fit of miraculously bad timing. After visits to the excellent Liverpool branch, we and many other Mancunians were looking forward to trying out owner Saiphim's superb take on Thai cuisine. Not to be defeated, they've set up a special takeout arm so the people of Manchester can sample their meals in the comfort of their own homes, before lockdown eases and we can dine inside this beautiful Deansgate venue, at the very tip of Spinningfields.
Owner Saiphim's superb take on Thai cuisine
Meals can be delivered from one of the many delivery apps but it's worth noting they charge an obscenely high amount, and considering the aim right now should be to support the city's restaurant industry rather than line the pocket of 'disruptive' venture capitalists, our conscience can't allow us to recommend that route. Instead, Rosa's Thai uses a click-and-collect service, where you place your order online, and like the name says, go over to the venue to collect. This way all the money goes to the restaurant, as it should be.
This works seamlessly, with the food passed over a wooden table at the entrance, the food piping hot. Now, reviewing a meal at home means missing out on a lot of what makes the restaurant experience so enjoyable but the food is exactly the same, so let's focus on that. The menu is huge, not far off from you could expect to choose from in the restaurant itself.
First, sticky tamarind wings. These are high-grade wings, coated in a sticky, sweet sauce and scattered with some crispy shallots and little chopped up pandan leaves, like an enhanced version of crispy seaweed. The meat is soft and tender, with a crunchy skin, perfected by that dark tamarind glaze.
Prawn tom yum soup serves as an ideal introduction to the sauce-based side of the menu: a thin but spicy burnt-orange-coloured soup, populated with thick prawns and shiny mushroom halves bobbing up and down. It's hot enough to clear out your sinuses but in a complex, satisfying way.
It feels like an insult to eat this from an ordinary white bowl
When it comes to Thai cuisine, the gold standard is massaman curry, and Rosa's do one of the best around. It's mild and creamy, with hefty slices of beef, plus onions, potatoes and cashew nuts. But it's the sauce that shines. An array of luxurious spices such as cinnamon, star anise and cloves, wrapped together in a smooth, creamy sauce. It's so rich and intricate, it feels like an insult to eat this from an ordinary white bowl.
As far as noodles go, the prawn pad thai has everything. Sweet, sour, tamarind, palm sugar, crushed peanuts, rice noodles and fat pale pink prawns. Each mouthful is a wealth of texture and flavour that never gets boring, no matter how many times you try it. Pad thai might be Thailand's national dish, but it's also Rosa's standout course.
And that's not to mention the sticks of chicken satay, with that unbeatable spicy peanut-based sauce, or the red curry with chicken and pineapple, both wonderful in entirely different ways.
A takeaway meal at home will never replace going out to a restaurant, and it's not meant to. But it's a fine stopgap until we can go out eating and drinking again. Rosa's Thai gives the option of enjoying undeniably high-class Thai food while lounging about in your pyjamas, and that should be celebrated.