Tom's Tap and Brewhouse
Vicky Andrews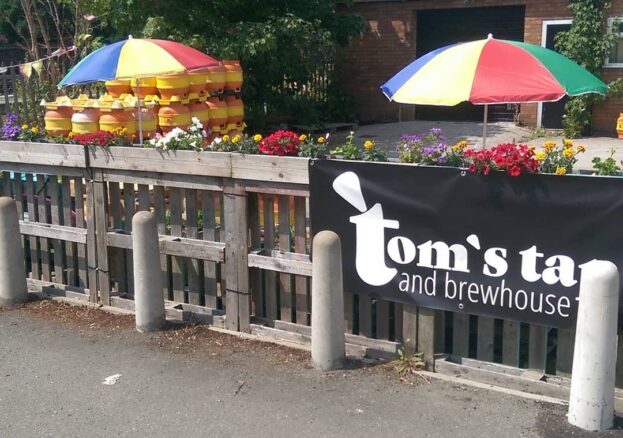 A number of bars in Crewe have tapped into the real ale revolution and leading the way for the hop-happy town is Tom's Tap and Brewhouse, a bar and microbrewery in Thomas Street.
Sean and Jacqui Ayling opened their own business in 2018 after working for more than 30 years in the hospitality industry. They're passionate about supporting local traders, so when they found themselves looking for a key supplier for a new stout they didn't have to go very far. The country's finest miller, Mornflake, was right on their doorstep.
The result was 'The Mighty Stout', made with Mornflake's finest jumbo oats. Stout is a strong dark beer which is full of iron and has an age-old reputation for 'building you up' after illness. Adding oats packs the drink with vitamins, minerals and antioxidants, and adds body and texture. The Mighty Stout is now one of their best-selling beers – we'd recommend you grab yourself a pint next time you're in town.
You'll always find an intriguing selection of flavours at Tom's Tap and on our last visit we tried creme caramel, coffee and passionfruit. There may have been more, but things got a bit fuzzy towards the end of the night. The bar also serves a quality selection of pale ales, lagers, ciders and vegan beer, including Rum and Raisin Vegan Milk Stout. Designated drivers need not feel left out, as all soft drinks are £1.
The bar has a really cosy and there's an outside seating area called the 'beer yard' which hosts street food and pop-up stalls at weekends. Tom's also holds special events including 'Meet the Brewer', beer and cheese nights, as well as live music and quizzes. It's been said that many a drinker has gone over to the 'dark side' after tasting Sean's dark stouts and porters. Whichever side of the force you're on, pull up a seat, enjoy some of the best beer in the North West and know that you're supporting local. A must-visit for real ale fans.