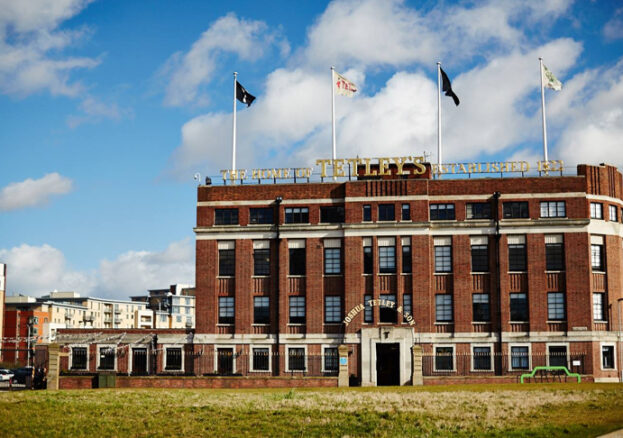 We return to The Tetley in Leeds, to celebrate the superb architecture of this most unusual of buildings.
Alone amidst a pan-flat landscape, The Tetley stands resolute in its art deco splendour. Whilst the rest of the former brewery has been flattened to make way for an expanse of car parking spaces, the former headquarters, built in 1931, have been spared from this end. Carlsberg bought out Tetley in 1998, then shut down operations at the brewery in 2011, leaving the future of the building hanging in the balance. Concerns grew after English Heritage refused to recognise its historic merit – but then the Danish brewery stepped back in as the unlikely hero. In an unexpected collaboration, Carlsberg and Project Space Leeds guaranteed that The Tetley would have a future.
Nearly a year after it reopened, it's clear that Carlsberg and Project Space Leeds have thrown a lifeline to The Tetley
A brewery might not be the first building you'd consider reconfiguring into an art space, but The Tetley's imperfections offer a refreshing alternative to the white cube approach of other, modern galleries. On the front façade, an interplay of brickwork and stone provides the geometric ornamentation characteristic of the art deco movement. There are protruding brick piers, with recesses between, which generate a rhythm of light and shadow across its face – this is a building that changes expression throughout the day.
The rear façade, meanwhile, is an illustrated history of the building. Closed up windows and a patchwork of bricks of varied size show the extent to which the former headquarters has been adapted and changed throughout its lifetime. The most recent of these adaptations is an unashamedly modern addition, in battleship-grey steel and mesh.
Inside, the ornate wrought iron lift shaft, although now out of action, is a visual centrepiece. It is work of art in itself, to be admired from all angles; the staircase to upper floors circles around it. From here, you can also begin to appreciate the sheer height of the atrium. A product of the recent alterations, it was created by removing the obstructing floors added in the 1960s. The exposed brickwork at the base of the staircase and the timber panelling that lines the corridors are a feast for the eyes, having aged and developed a richness and patina over the years. It's clear that Carlsberg and Project Space Leeds have thrown a lifeline to The Tetley – opening it up to the public and allowing its timber-panelled revolving door to keep on spinning.