Sheffield Makers Winter Gardens
Creative Tourist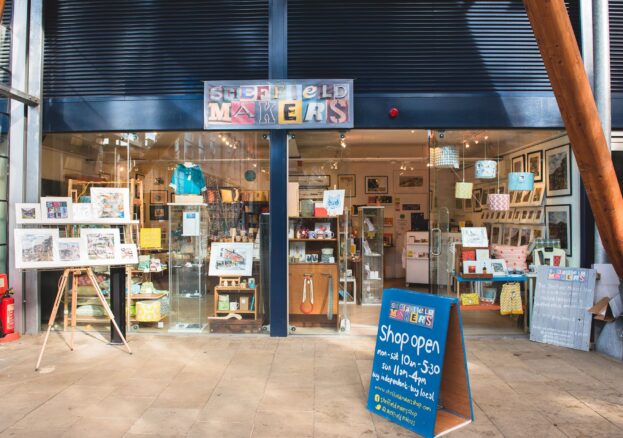 The Sheffield Makers Shop is nestled in a corner of Sheffield Winter Gardens in the heart of Sheffield City Centre. The shop exclusively sells items created by makers and artists living in Sheffield.
The need to create, to experiment, research and showcase is what attracts people to Sheffield, and keeps them here. It's a city that makes people: music-makers, theatre-makers, art-makers and business-makers. With the city's thriving arts scene, many studio spaces, craft fairs and independent creative industries, Sheffield Makers offers a brilliant platform to showcase all of the unique work being created by Sheffield folk.
A one-stop shop for creative independents working in Sheffield. Inside you'll find confectionery made by Sheffield's very-own chocolatier Cocoa Wonderland alongside fun one-off clothes for children by Idle Sew-and-Sew. The Daniel Bros create unique items from reclaimed timber, while Embers and Ink transfer their bright and witty illustrations onto greeting cards, mugs and stationery.
Sheffield Makers Winter Gardens sits conveniently next door to the Millenium Gallery and close to the Graves Gallery; all three places complement each other perfectly – why not experience a few hundred years' worth of art history and then browse some of the great things being created by the artists and makers working in Sheffield today.