The North Pennines (UNESCO Global Geopark)
Jake Gill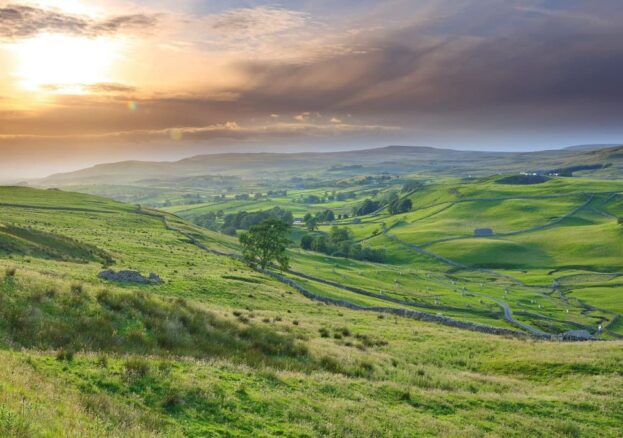 The North Pennines is one of the finest and most picturesque Areas of Outstanding Natural Beauty (AONB) found in England. The UNESCO Global Geopark is a place of tranquillity, a natural Eden in the North which was almost 500 million years in the making. Extending through the counties of Cumbria, Northumberland and County Durham, the North Pennines is one of the most remote locations found in England, home to some of the rarest flora and fauna found in the British Isles.
The spectacular scenery that fills the landscape ranges from primeval oak woodlands and hay meadows, to rich grasslands and heather moors. The North Pennines is also the birthplace of the Tyne, Wear and Tees rivers. Incredible cliffs and remarkable cascades are found along Whin Sill, including High Force Waterfall, the largest waterfall in England. Hints of human activity dating back 10,000 years to the Stone Age are also scattered across the land. Highlights include the Neolithic stone circle known as Long Meg and her daughters, the Roman fort of Epiacum, and one of England's finest medieval strongholds, Raby Castle.
The North Pennines is one of the most biodiverse locations in England, and visitors find themselves amongst some of the most astounding wildlife in the country – red squirrels, otters, merlins, black grouse, and water voles are all found within the geopark. Birdwatchers will want to spend some time immersing themselves in the Allen Banks walk or the Blackton Reservoir trail, both of which offer excellent routes to observe some of the most incredible avian species found in the area.
For walkers and cyclers who love their grub, the Love Food Taste Trail offers foodies a scenic route – beginning at Barnard Castle, the footpath follows the former stone quarry railway to Middleton-in-Teeside. Sheep farms and cattle herds set a perfect backdrop to a journey that offers a fantastic selection of local food and delicacies at award-winning pubs and cafés along the way.