Secret Bistro at The Palatine
Polly Checkland Harding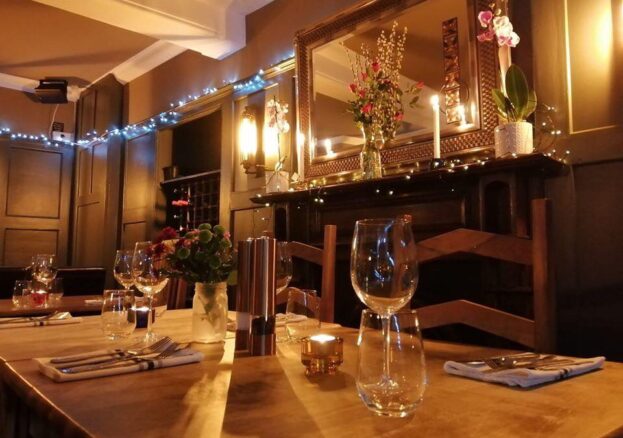 In one way the Secret Bistro, a relaxed restaurant with fantastic views over Morecambe Bay, lives up to its secretive name: it's hidden away above The Palatine, a traditional pub on Morecambe's shorefront owned by Lancaster Brewery. In another, it's no longer the unknown spot that it first was when couple Gavin and Sam Riley opened their take on a cosy local bistro; highly rated by guests, the word is well and truly out. A genuinely special place in which to enjoy the brilliant colours of the sunsets over Morecambe Bay through the pub's white-framed windows, the Secret Bistro's growing reputation also has to do with the food produced in this laid-back, wood-panelled room.
The Secret Bistro's menu changes every three months, the ingredients and dishes chosen to reflect the shifting seasons. The food subtly showcases Morecambe's fresh fish and shellfish, with typical dishes including moules mariniere, king scallops and seafood bouillabaisse. The restaurant also produces a signature surf and turf, with Cumbrian beef fillet steak, lobster tail poached in garlic butter and truffle parmesan fries. Beyond this are ambitious, complex dishes, such as a slow roasted, autumnal-spiced butternut squash and white truffle oil risotto, and an Indian-inpsired chicken kiev, stuffed with spiced garlic butter, tomato and coriander sauce. The cooking reaches for layered textures and flavours, unafraid to introduce involved processes and rich ingredients.
All this in an atmosphere that remains friendly and relaxed, with wooden tables and chairs, linen napkins and fresh flowers – as well as a few cutesy touches such as the trinkets on the fireplace and a heart-filled painting on one wall. The Palatine pub, Secret Bistro's home, is a traditional watering hole, with regular pub quizzes and live music scheduled. A down to earth establishment on the ground floor and a forward-looking bistro upstairs make for a great combination – with a stunning natural backdrop.