Winter Gardens Theatre
Polly Checkland Harding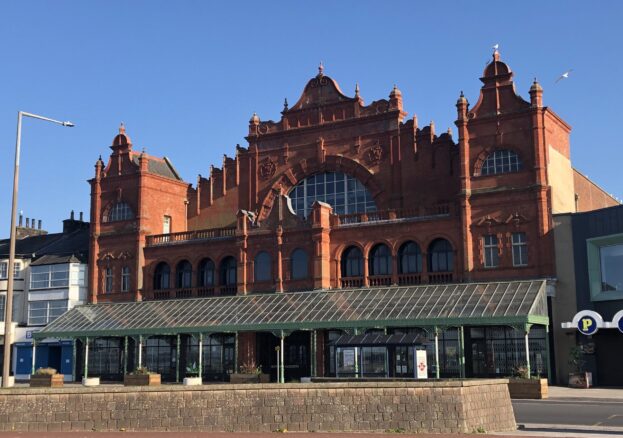 The Winter Gardens theatre is a truly extraordinary Grade II* listed building on Morecambe's waterfront, run entirely by volunteers. It's an exceptional piece of architecture, with detailed interiors including carved marble staircases, mosaic flooring, tiled walls and ornate plasterwork. At a height of 65 feet and with a roof spanning 118 feet, the auditorium is one of the largest in the country – but what makes Morecambe's Winter Gardens theatre really special is its long history, one that reflects the varied fortunes of its home town.
Opened 17 July 1897, it was originally known as The Victoria Pavilion, a grand variety theatre and concert hall that was built on the site of a much bigger, and older, complex. With a capacity of 2,500, the theatre alone was one of the largest in the North West and cost nearly £100,000 to build. Morecambe's original Winter Gardens dated back thirty years earlier, and was first envisioned as a swimming baths on the waterfront. Surrounded by the growing winter gardens it was named after, and with the later additions of restaurants and an aquarium, the original building had two glass domes with a huge glazed arch roof and semi circular windows.
The ambitious roof ended up causing problems, freezing the exotic foliage in the winter and roasting visitors in the summer: it was later converted to slate, leaving only a few glass openings for light. Innovative at the time, with three medicinal baths (sulphur, hot air and electrical), the site's fortunes declined over the years and the entire complex was closed in 1977. Five years later, the original Winter Gardens were demolished, leaving the theatre standing alone and in an extremely vulnerable position.
The theatre is now undergoing renovations, with the ornate ceiling next to be repaired and a new heating system set to be installed. In October 2020, the building – which has played host to the likes of Laurence Olivier, Julie Andrews and The Who over the years – was granted £20,800 from the government's £1.57billion Culture Recovery Fund, helping the volunteer team to meet the monthly costs and continue with restorations. It's scheduled to reopen in March 2021.