The Old Pier Bookshop
Polly Checkland Harding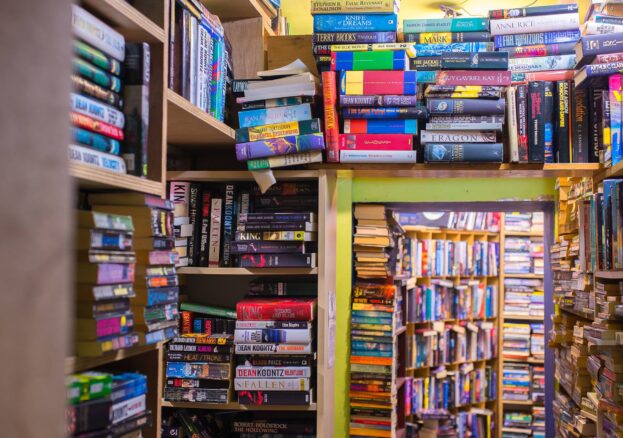 The much loved independent Old Pier Bookshop on Morecambe's shorefront is family run and almost proudly disorganised. It's a veritable warren of second hand books; the online estimate stands at over 100,000, although how anyone could possibly count them all is another question. Organised loosely by theme, the bookshelves are unlabelled and waist-level piles of novels can be found on the floor – however, the owner (known as Mr Bookshop) is said to be able to pinpoint volumes with unnerving accuracy when asked.
This is a place where quirky ornaments dot the shelves and many a printed treasure is to be found: look out for gems such as a signed book by Sir David Attenborough, a beautiful leather bound volume with a brass lock, and a volume on The Sword Dances of Northern England (we have so many questions). The best way to visit The Old Pier Bookshop is to set aside a few hours to properly explore the vast collection; this is a place to browse, open to finding books you've never heard of before, or perhaps classics you've forgotten about over the years.
Open until sunset between November and March, The Old Pier Bookshop has become so well known over time that a letter addressed to 'The Man who has the Book-Shop on Morecambe sea-front' reached its owner. Pair your visit with lunch and a hot drink from Keegans Coffee and Sandwich Shop, a seven minute walk away, or afternoon tea at the famous Midland hotel, just over a fifteen minute walk away along the seafront, passing the glorious frontage of the Winter Gardens theatre. However you choose to visit The Old Pier Bookshop though, make time to stay an hour or so, and find out why this place has become a firm local favourite.