Lancaster Brewery
Polly Checkland Harding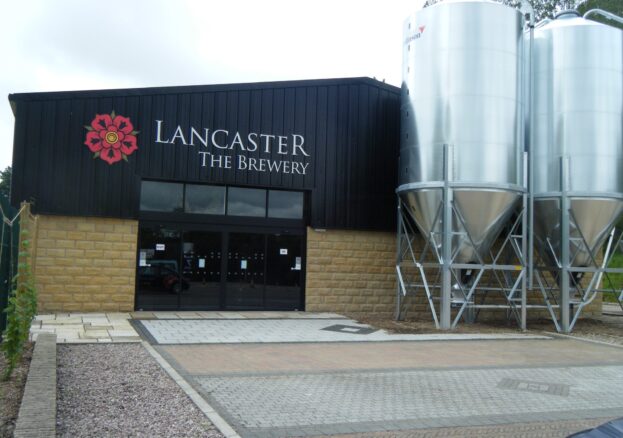 Originally established in an old hurricane cockpit assembly unit on an industrial estate, Lancaster Brewery has since moved to Lancaster Leisure Park – here the brewery and The Brewhouse & Tap are neighbours with the popular GB Antiques Centre, just a little way out of Lancaster city centre. Arguably, Lancaster Brewery is a destination all of its own: here you can discover how the beers made by this award-winning regional brewer are made, as well as sampling the range at the brewhouse and beer garden.
Lancaster Brewery is unusual in its approach to beer, which is stocked in pubs across the UK as well as internationally: the malt is milled on the same day as the brew, resulting in a markedly richer flavour, and whole leaf hops are used instead of the increasingly common hop pellets and oils. The brewery's live yeast strain has an ancestry dating back 200 years – and sustainability is prioritised here too, with electricity coming from solar panels on the roof and used malt given over to feeding local, free range pigs. All of which is why the Brewhouse & Tap is included in CAMRA's Good Beer Guide, with a Cask Marque accreditation.
There are at least five of the brewery's own beers available at the Brewhouse & Tap at any one time, alongside a wide range of wines, spirits, coffees, teas and soft drinks. Best of all, there's a beer garden and marquee with a capacity to seat almost 200 people – as well as seasonal Lancaster Brewery ales on tap up to a week before they appear anywhere else. Tours around the brewery itself are relaxed and informal, with questions actively encouraged. Pre-booking is essential for the three different levels of tour: all 45 minutes long, the tours include accompaniments from five beer samples (Amber) up to a full meal of a pie, peas and gravy plus four pints from the selection on the bar (Red). There's also the chance to be a brewer for a day, creating your own beer alongside Lancaster Brewery's Master Brewer (weekdays). Finally, if you're exploring the area, look out for Lancaster Brewery-owned pubs The Sun Hotel and Bar in Lancaster, with its 300 year-old building, and The Palatine on Morecambe's shorefront, home to the popular Secret Bistro.
Tours are temporarily unavailable due to government restrictions during the pandemic.