Keegans Coffee & Sandwich Shop
Polly Checkland Harding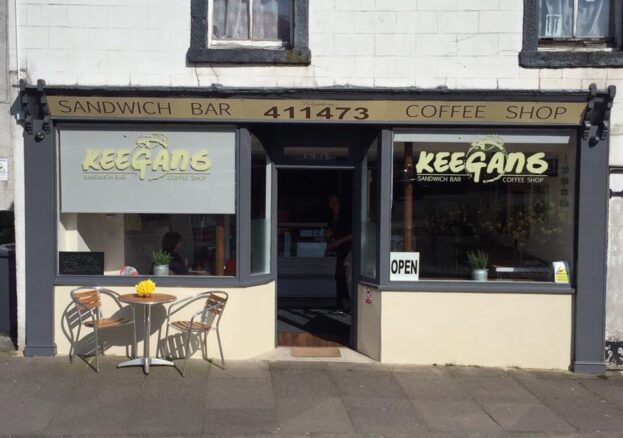 Keegans Coffee and Sandwich Shop in Morecambe is the sort of place you might walk past without being alert to the quality of the offering inside. It's a relatively small café with an unassuming frontage and low key interior decor; there's a glass fronted sandwich bar and small tables with comfy-looking chairs, as well as bar stools with a view out of the front windows. Over the years, though, this friendly breakfast and lunch spot has become a favourite with Lancaster locals, as well as visitors to the city who've crossed its threshold. It's even the go-to haunt in Morecambe of the heavyweight boxer Tyson Fury, who reportedly has a favourite off-menu dish that the staff make for him when he visits.
Keegans advertises its offering in frosted letters on its windows: hot drinks, homemade cakes, fresh salad, breakfast, lunch. Inside, there's a more comprehensive main menu on a blackboard, with classic breakfast fare such as bacon, egg and sausage buns chalked up next to a list of house fillings for sandwiches, including coronation chicken, roasted ham, topside beef and egg mayo. You can build your own salad box (regular or large) from the extensive salad bar, or choose from the soup of the day and panini of the week. Occasionally, there's a Russian bent to dishes: 'Russian borscht' and 'Russian sponge with marmalade' have both appeared, and look wonderful. On hot days in summer, go for the luxurious looking milkshakes.
Keegans Coffee and Sandwich Shop is only a five minute walk from Morecambe's shorefront, so very handy if you're visiting another local favourite, The Old Pier Bookshop. Further along the seafront is, of course, the iconic Art Deco hotel The Midland – and, if you really want to stretch your legs, it's worth walking on even further around the incredibly beautiful shoreline to the village of Heysham. Here you'll find artist Anna Gillespie's extraordinary maritime sculpture SHIP, the haunting rock cut graves at St Patrick's Chapel and a warm welcome at the pub and restaurant of The Royal at Heysham hotel. Closer to hand is Morecambe's famed Winter Garden theatre and relative newcomer the White Elephant Gallery – if you're not overly full from Keegans delicious offerings, that is!