SHIP at Half Moon Bay
Polly Checkland Harding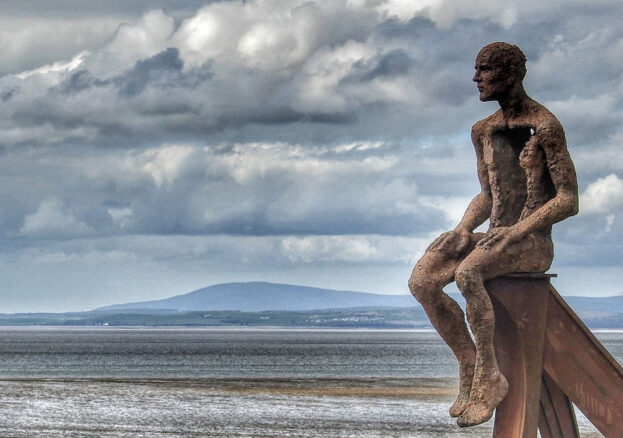 Rising from the shoreline at Heysham's Half Moon Bay, SHIP is a stunning outdoor sculpture by the artist Anna Gillespie. Situated at the threshold between land and sea, SHIP celebrates both Morecambe's incredible landscape and the town's long maritime heritage: it has a natural backdrop of shifting tides, with the sun setting on the horizon behind it, but also overlooks Heysham Port, a point of arrival on the coast for the earliest Roman and Viking settlers, which is still used today.
Made from corten steel, which weathers naturally over time, SHIP sees the two ends of a boat emerging from the ground, with a figure perched on each of the raised points fore and aft. There is an expectant air to their seated stance, reflecting the wait for news, modern innovation and travelling people that seaborne arrivals have long occasioned in the area. Each figure faces a different direction: one towards the ancient monument of St Patrick's Chapel, and Morecambe's historic past, the other towards the town's industrial future, in the shape of the Heysham Nuclear Power Station. On the ground between them is a central block of Longbridge sandstone, a seating place for visitors to conduct their own vigils.
The artist Anna Gillespie, who lives and works in Bath, was commissioned to create SHIP at Half Moon Bay as part of The Headlands to Headspace Landscape Art Commissioning Programme, a joint venture from the Morecambe Bay Partnership, Deco Publique and the Heritage Fund. SHIP is one of five artworks (three temporary and two permanent) that were designed to help both residents and visitors to connect with the breathtaking natural landscape and cultural heritage of Morecambe Bay's 90 mile coastline. SHIP, and artist Chris Drury's Horizon Line Chamber – a handmade stone oratory on the shoreline of Sunderland Point with an inverted image of the coastline projected inside – are now lasting facets of Morecambe's shoreline, and truly special reminders of the town's maritime heritage.