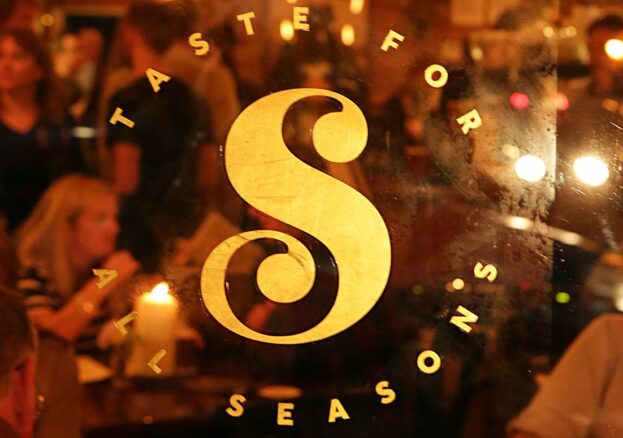 Saison – which is the French word for "season," and for a fruity pale ale – is found on Burton Road, West Didsbury. Inside, it's all varnished dark wood and cool white walls, with the doors and brickwork picked out in pale sage. It's also, as discover when we visit, something of a beer drinker's paradise.
We loved the glossy beer guide booklets on the tables
There's an impressive row of sixteen beer taps, as well as four cask beers and a forty-strong selection of bottled beers from a wide range of local and European brewers, including a respectable number of Belgian Trappist specialities. We loved the glossy beer guide booklets on the tables, packed with useful tasting notes and invitations to sample and score different bottles – and the delicately fruity strawberry Timmerman's and honey-infused ale we settled for were perfect on a warm, early autumn afternoon.
The seasonal sense of Saison's name comes to bear with the new menu, which focusses on the freshest ingredients. Posh takes on a full English, doorstep butties and beans on toast populate the brunch menu, with more dishes to be added soon. The small plates were a delight (the slow roasted pork belly with chilli jam and the pea and mint risotto balls really hit the spot for us) – and are good value at a fiver. So, for beer, seasonal food and a relaxed atmosphere, Saison is well worth checking out.