NoLIta Cantina
Christina McDermott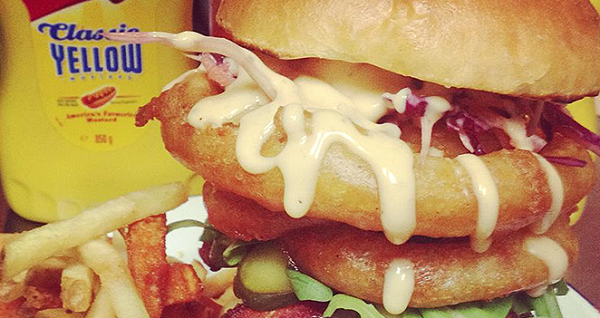 NoLIta Cantina may not be the first to bring 'merica to Merseyside but you can't argue with its understated, deli-style menu.
Liverpool has always had a bit of a crush on New York. Popular wisdom tells us it's because both are port cities that ultimately lead to the Atlantic but, whatever the reason, the Scouse fondness for a certain type of Americana runs deep. You can see it in the outsized architecture around Pier Head, hear it in the city's fondness for country music and, more and more, you can taste it in the food. Recently, it feels as though everywhere you turn in the city there's a new US-themed bar opening, serving up hot dogs, burgers, mac 'n cheese and other "dude food". If that kind of thing floats your boat, you could do a lot worse than swinging by NoLIta Cantina on Bold Street.
The name (an abbreviation of 'North of Little Italy') refers to an area in lower Manhattan, although it's no relation to Manchester's similarly-named SoLIta (restaurant owners these days seem fairly confident that their clientele are familiar with the geography of The Big Apple). The owners claim to be inspired by the kind of Jewish delis NYC is famous for – think Katz's (made famous by When Harry Met Sally) or Russ & Daughters – and promise, among other things, "a refined take on deli-style sandwiches, Southern cuisine and traditional cocktails". Less sass, more sandwich – sounds good to us.
Chefs Jen Roberts and Grace Makin have said they wanted to avoid the "style over substance" approach they'd seen in deli-style restaurants elsewhere. The decor is pleasing and unfussy and, while it might not be massively redolent of a traditional NY eatery, it avoids the chrome and Formica kitsch you often find. But is the food suitably Nuyorican? A quick glance at the menu reveals the ubiquitous pulled pork (served on potato latkes – your Bubbie would approve) and giant burgers that we've come to expect, alongside other, less typical delights. These include slow-cooked beef brisket, gigantic pastrami-on-ryes, Hush Puppies (small savoury donuts of cornmeal, beer and cheese that pop in the mouth and are highly addictive), "Buffalo Chicken Blasts" and "Frickles" (deep fried pickles served with a blue cheese dip). These are just made for munching between slurps of one of their decent range of US craft beers (Sam Adams, Brooklyn Lager and Sierra Nevada to name just three) or a "Lagerita", a wicked lager-and-tequila cocktail. If you pop in for lunch during the weekdays, you may be lucky enough to find your fries – a deliciously munchable mix of potato and sweet potato that come highly recommended – are 'bottomless' until 4pm, an offer it would be rude to refuse.
NoLIta isn't exactly reinventing the wheel and its understated approach means that it might struggle to stand out in what is an increasingly crowded market (especially as the service can sometimes be a bit erratic) but it offers good food at reasonable prices (along with the all-important free Wi-Fi) so I'll have what you're having – especially if it's the chocolate peanut butter pie.