Garden Cafe FACT
Creative Tourist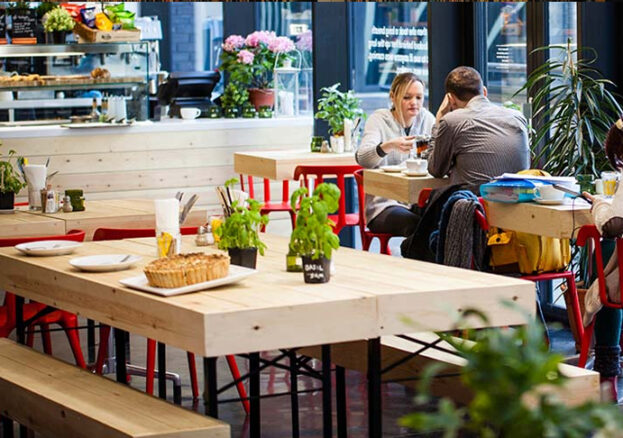 FACT Liverpool gets back to its coffee-with-creativity roots thanks to a foliage-full new café. Not so long ago FACT's ground-floor café felt like a missed opportunity. Like a Saga cruise ship past its prime, it had lost its lustre – and along with it the ability to lure in the sorts of digitally-minded young things that are FACT's lifeblood.
But all that changed with the welcome appearance of a garden. Not just any garden, mind. The Garden at FACT, to give it its proper title, is a re-launched and improved eatery that is the result of a nifty collaboration between the arts organisation and LEAF, Liverpool's super-cool cafe-bar outfit that has a sister venue on nearby on Bold Street. It is a partnership that makes perfect sense: LEAF's Natalie Haywood was directly influenced by FACT when she set up her own business. That killer combo of coffee and creativity – a place where creative types hold meetings or cook up ideas hunched behind a laptop – was something she took and ran with at LEAF. So her Bold Street venue doesn't just serve food and drink. It's also one of the best places in the city for live gigs, performance and events.
But back to FACT and a café that now features stripped-back interiors and a back wall painted a surprisingly workable deep blue. With the opposite wall dominated by floor to ceiling windows, there's plenty of light, but the overall industrial aesthetic of FACT (bare concrete walls, polished black concrete floor) has been softened by the use of untreated wooden tables, strategically-placed fairy lights and a profusion of greenery.
To be fair, there aren't quite enough plants to warrant the name "garden" but there are enough – they cover tables and counter, or stand in pots by the windows. There's a flowering hydrangea by the till, and tiny potted numbers standing at rhythmic intervals along the higher window sills. It works a treat. The cavernous space is made cosier, and despite the explosion of flora and fauna the aesthetic is just the right side of hip – as you might expect from a food and drink retailer awarded a "Hippest of the Hipsters" award in 2011  (from the BBC's Olive Alternative Food Awards).
The food is simple, with an emphasis on vegetarian and vegan offerings. Breakfast runs until Midday, with hot rolls, porridge and granola on the menu. And as for the rest of the day, expect a mix of substantial sandwiches (such as grilled smoked bacon, vine tomato and rocket, £4.35), daily soups and a salad bar. Mains, meanwhile, err on the Mediterranean side, with a mezze board (£5.25), fried falafel on a toasted tortilla (£5.25) or a quiche of the day. According to staff at FACT, tapas-style dishes and a later opening time (until 8pm daily) have been introduced to encourage cinema-goers to stay awhile. Best of all, for anyone looking to hunker down with their laptop, there's free WiFi and a good number of sockets – a small thing, to be sure, but when you're of a digital mind set, grabbing enough juice to keep both you and your gadgets going is surely a serious matter.