Mowgli Street Food Restaurant
Christina McDermott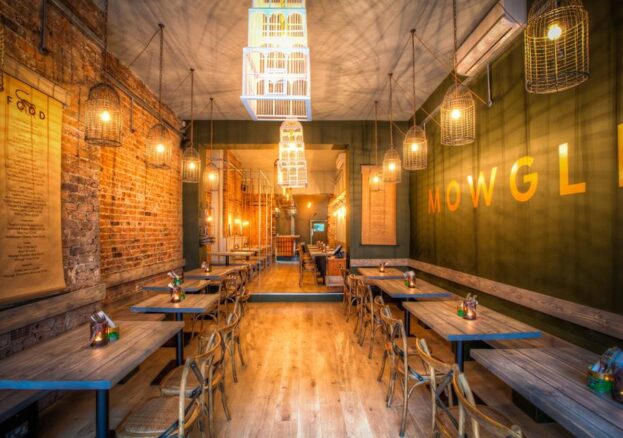 Mowgli does Indian street food that's shaking things up in Liverpool. We review it.
Bold Street is growing up. The opening of Liverpool One in 2008 saw it begin to fade as a retail area, but what's cropped up in its place is a veritable diners' wonderland. Take a wander from Liverpool Central to the Bombed Out Church and you'll find everything from falafel to fajitas (with the odd Greggs in between). It's gone from an area where you'd struggle to find a decent cup of coffee to one where it's hard work deciding what to choose for your tea.
Into this crowded field comes Mowgli, a restaurant aiming to bring authentic Indian street food to Liverpool. On paper, that might seem like a hard sell in a city more used to onion bhajis and chicken tikka masala than chat bombs and bunny chow, but if anyone can do it, Nisha Katona can. A celebrity YouTuber, cookbook writer and curry evangelist, she wants to introduce us to the more esoteric side of sub continental cuisine. Judging by the rave word of mouth reviews, she's succeeding.
Mowgli doesn't look like the Indian restaurant of yore. Instead of flock wallpaper and threadbare carpets you'll find tasteful Scandinavian blonde wood, ceiling hangings and the now practically ubiquitous exposed light fittings. Its whole atmosphere is one of warmth, a place to come in out of the cold and indulge in a plate of something comforting on a wintry day.
Nisha Katona wants to introduce us to the more esoteric side of sub continental cuisine
I started with a portion of Chat Bombs, small bread puffs filled with yoghurt, chickpeas, tamarind, coriander and mint. Designed to be eaten on the go, these burst in your mouth with a dazzling array of textures and flavours, a world full of crunch and sour-sweet sizzle. I haven't tasted anything like these before and I doubt I will again. They disappeared fast.
Then came the Office Worker's Tiffin. For a restaurant whose core concept is "small plates" this is anything but. Two different curries, a (rather thin) dal and an exceedingly large portion of rice, all served in a traditional tiffin box (a delightfully fiddly metal contraption designed to keep Indian office workers' lunch toasty warm). Mine contained a house chicken curry – a delicious, Korma-like affair comprising large chunks of chicken simmered in a mildly spicy coconut milk-laden sauce.
The house lamb curry I was less keen on. According to the menu, it's flavoured with "marrow, anise, plums and coriander", but it tasted mostly of tomatoes and a hell of a lot of chickpeas. There's no point in bringing this type of food to Liverpool if you're too scared of alienating local tastes to spice it properly. Although the menu states that this is for one person, I'd suggest splitting it between two and ordering some of the more inventive dishes as sides.
There are a few areas where Mowgli could use some tweaking. For example, it's a shame that it doesn't have a better beer list (the only thing curious about the "Curious IPA" I tried was its lack of taste). Also, while service was lovely, it was so lightning fast that it gave the impression the front of house staff were more concerned with turnover than creating a welcoming experience.
These are all minor quibbles though. Liverpool needs places that challenges preconceptions of Indian cuisine and introduces people to new ingredients and flavours – so Mowgli really is a welcome addition to the city's diverse restaurant scene.