MUSU Restaurant & Bar
Anne-Marie Pattenden, Food & Drink Writer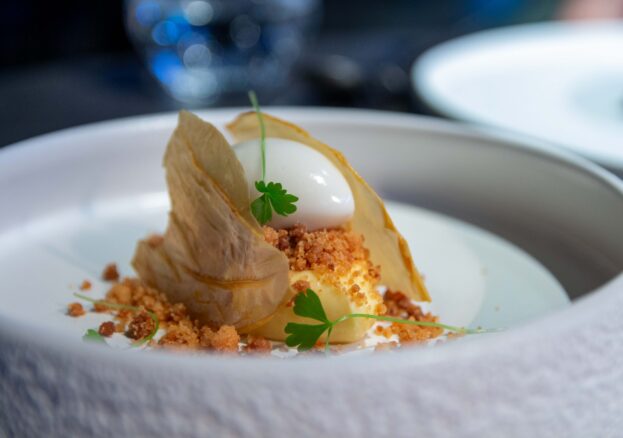 Stepping into Musu feels like entering the world of the Japanese glitterati. Every element of the ambience is honed and polished, from the pitch-perfect lighting to giant screens showing sweeping panoramic views of snow-capped Japanese mountaintops.
Today is all about the Christmas Sentaku menu, so begin with one of the festive cocktails, such as the Kurisumasu, elderflower-scented Yuletide, or the spiced apple flavours of the Tsurai Sour. As for the meal, the paired wines are a must – Musu's in-house sommelier is possibly the best in the city.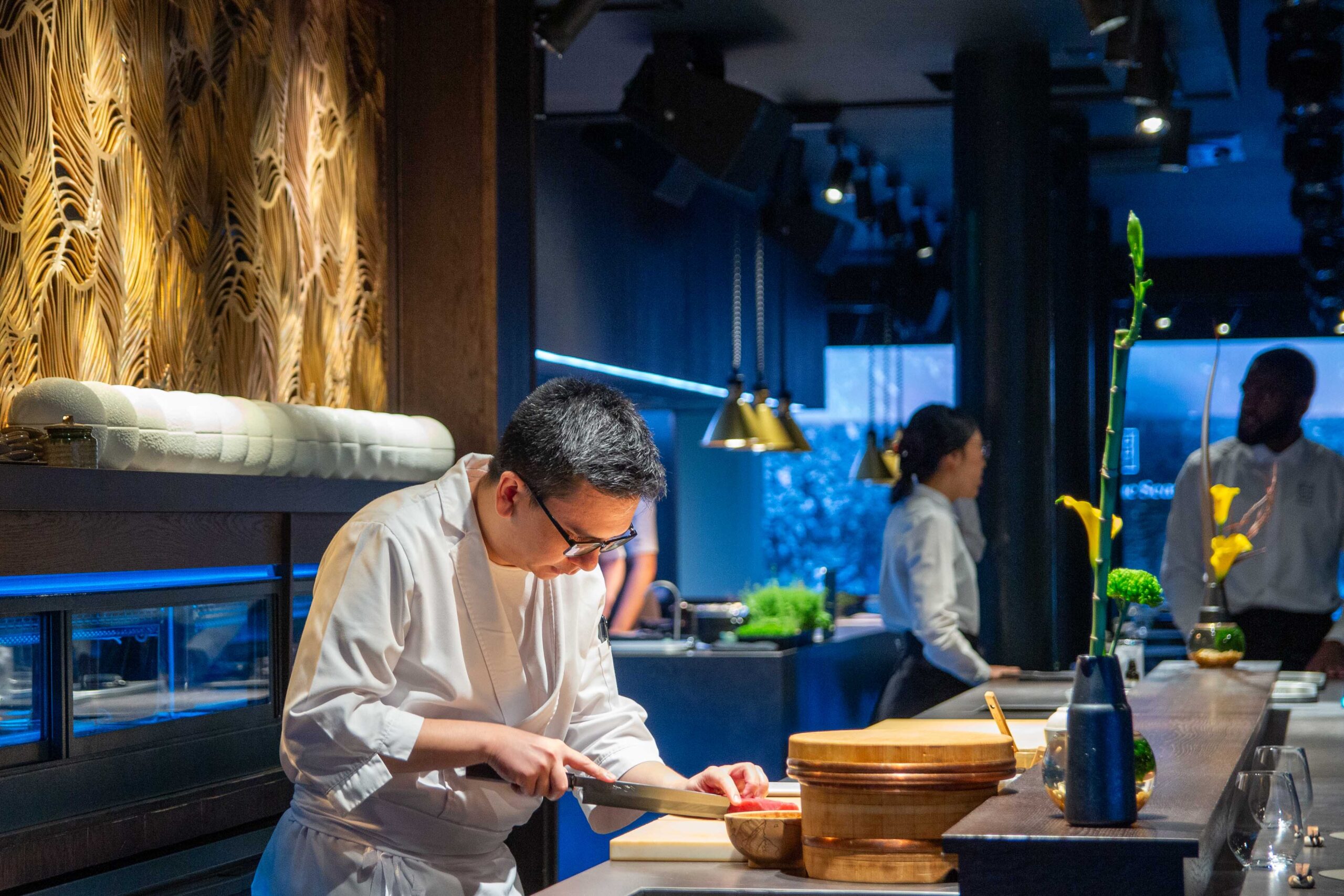 There are three courses on this special menu, each more breathtaking than the last, with a couple of options for each. Start with sashimi: an elegant selection of buttery hamachi (Japanese yellowtail), deep pink akami (tuna loin), and salmon pinstriped with fatty veins. It arrives on a bowl of crushed ice with freshly grated wasabi, slivers of daikon, a wonderfully sweet and salty dipping sauce, and a sparkling sprig of ice lettuce. The paired Pinot Gris is an ideal match for these delicate flavours.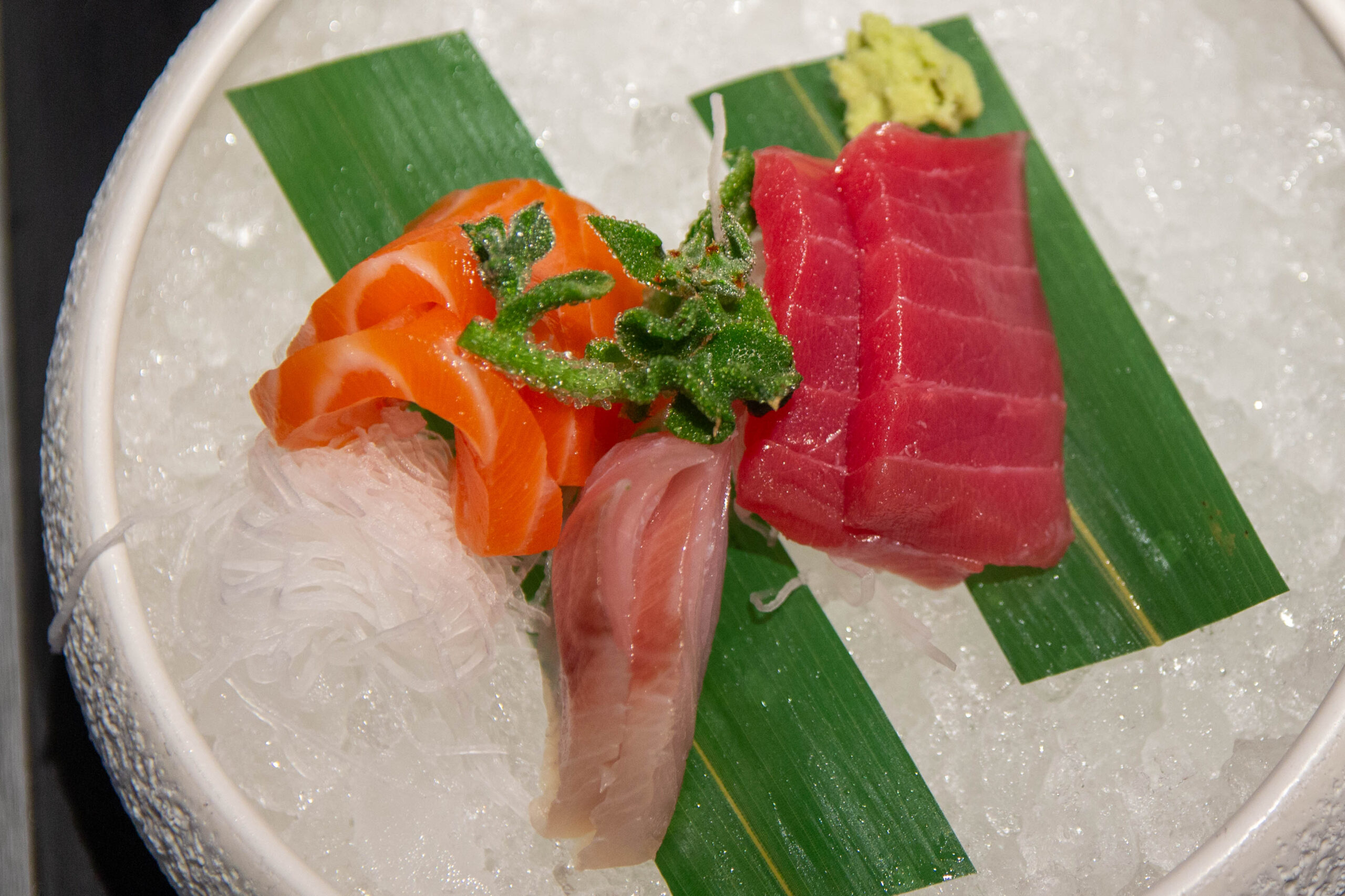 Or you could start with something hot – chicken yakitori straight from the sizzling grill, treating the room to a glorious aroma as they cook. These deeply umami chicken bites are interspersed with sweet onion in a teriyaki-style glaze, beautifully charred on their skewers. The Furmint pairing (a Hungarian white) comes alive when sampled alongside them. 
For the main event, fish lovers should definitely try the halibut. Paired with an almost buttery-smelling Primitivo (an Italian red), the thickly sliced, meaty textured halibut sits in a pool of rich dashi butter sauce artfully decorated with drops of herb oil. It's topped with smooth and sweet celeriac purée, sturgeon caviar and, in a stroke of genius, little florets of pickled cauliflower. A beautifully balanced dish.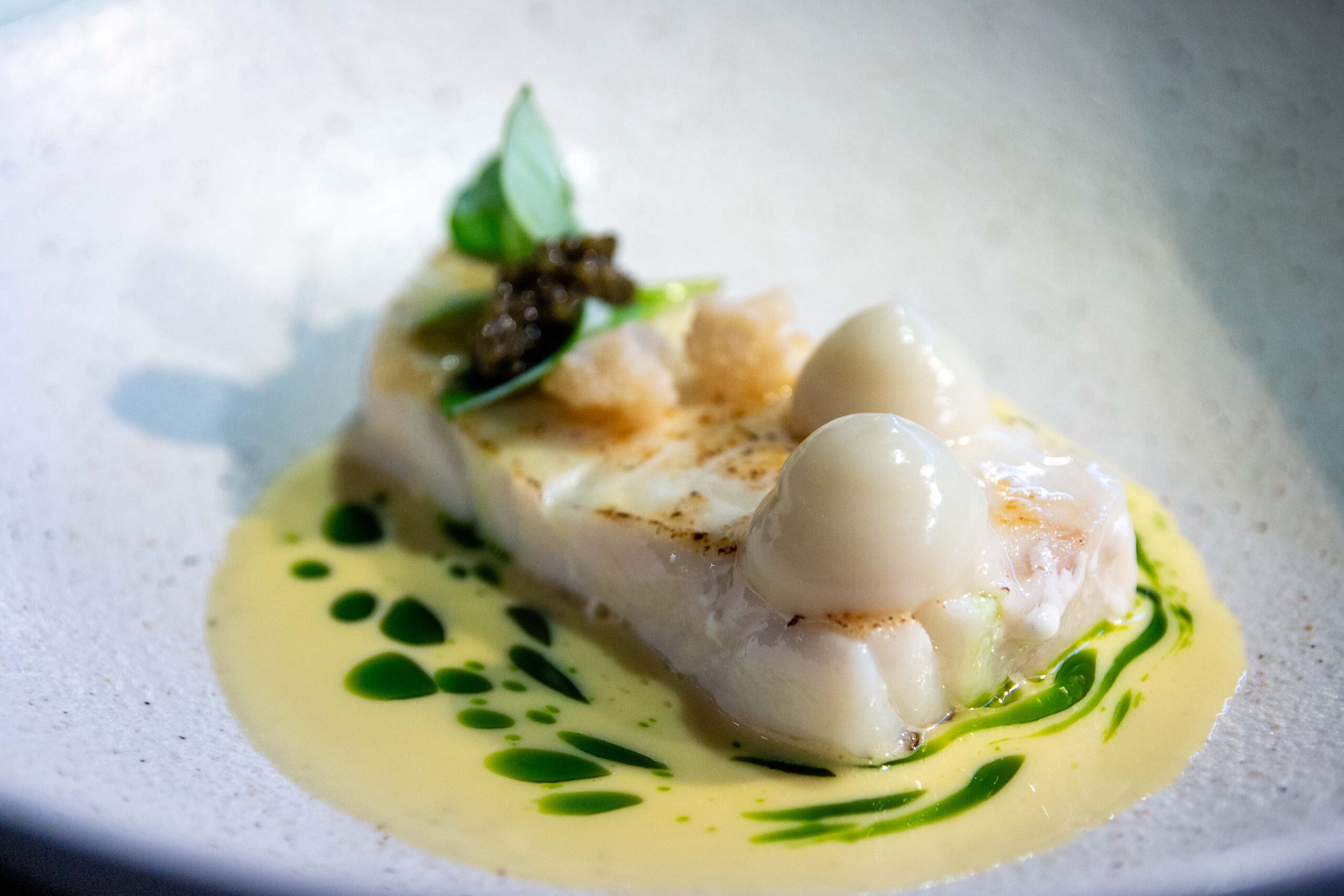 Prefer meat? The salt-aged duck main is equally good, aided no end by the paired Austrian Zweigelt from Villa Haas, which delivers delicious cinnamon blackberry flavours that perfectly complement the juicy, rose-coloured meat. Oh, and it comes with the best mini duck gyoza you will ever eat – an intense duck flavour bomb. The plate is nicely set off by the iron-rich tang of pak choi, coated in sesame seeds and a rich, glossy sauce.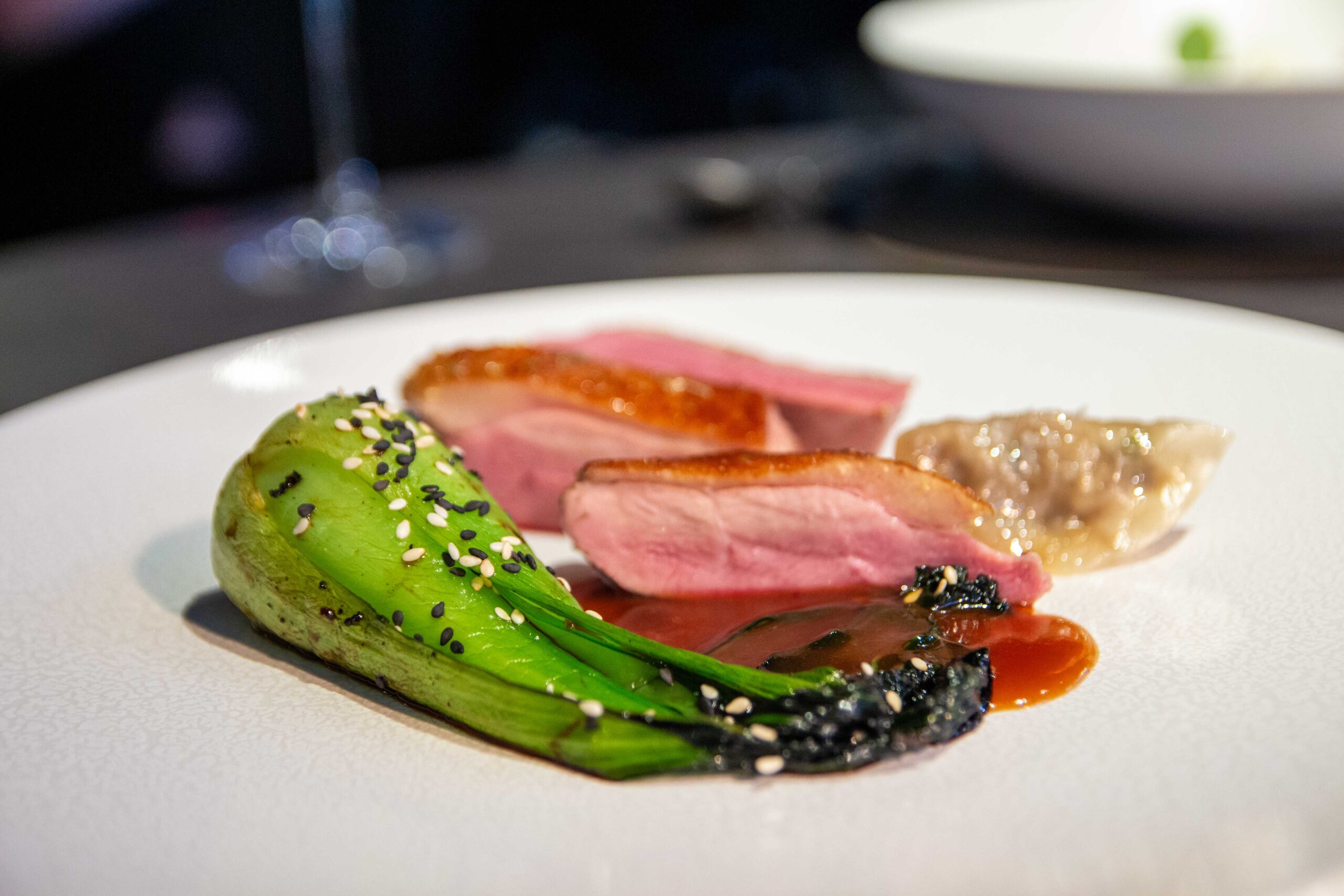 To finish, the sommelier serves a sparkling white Moscato d'Asti from the Prunotto family, who have been winemaking for 26 generations. A preliminary sip is somewhat sweet, but, fear not, it matches beautifully with the two desserts.
The Sudachi is described simply as 'meringue/blackberry', but this doesn't do justice to its complex and beautiful construction. If you can't decide which dessert to choose, seeing it on the pass will surely settle things. Sudachi, a lime-adjacent Japanese citrus fruit, is used to great effect in a delightfully zingy pastry cream, layered between pastry discs, hiding a little burst of basil in the centre. It's topped with meringue sticks and a quenelle of tangy blackberry sorbet, all garnished with jewel-like blobs of blackberry gel.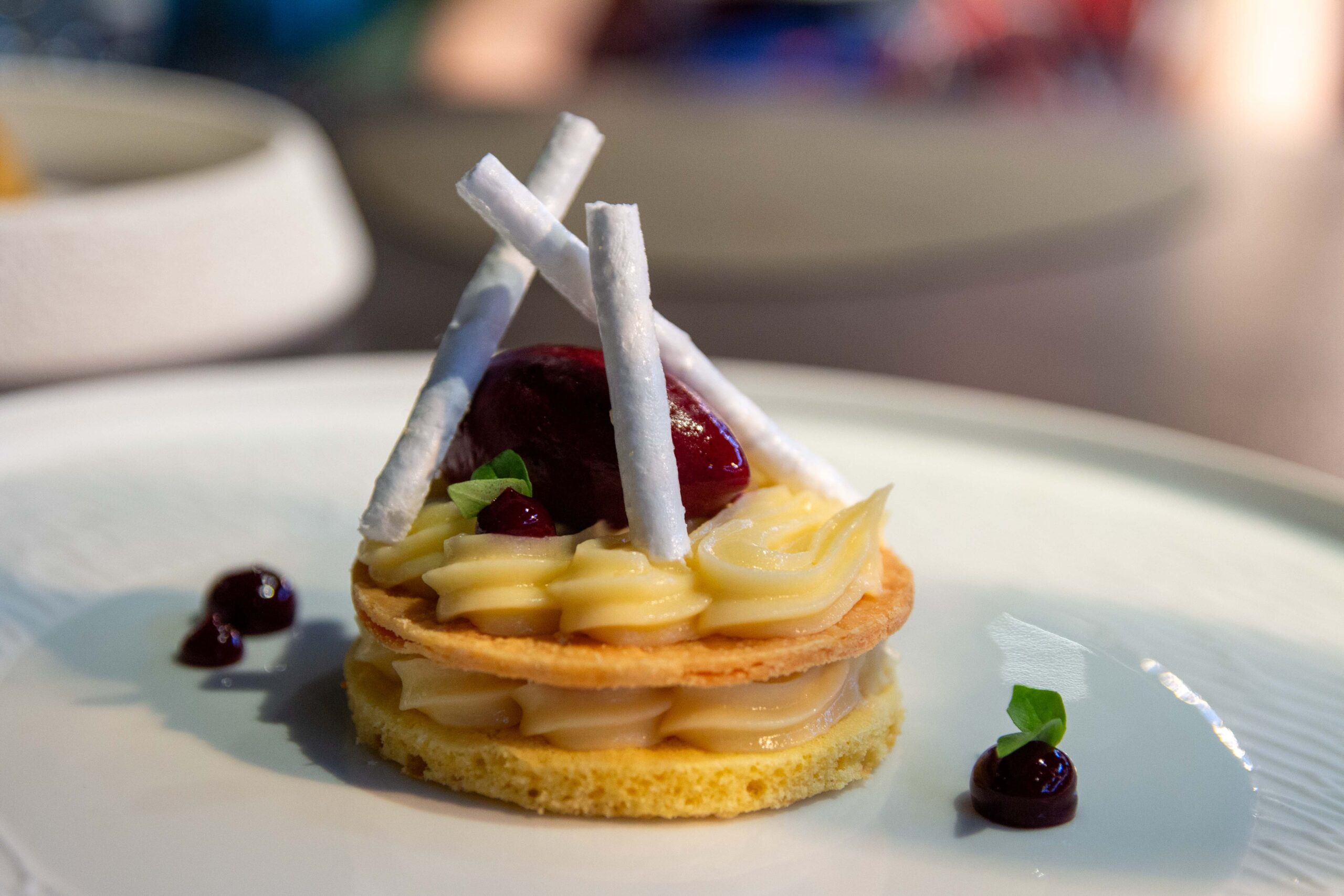 But Musu's most popular dessert is the Salted White Chocolate, built to impress and shaped like a Portuguese man-of-war ship. Soy milk crisps look like ethereal sails arranged either side of a dreamy almond ice cream, on a bed of salted white chocolate crème pâtissière. A crunchy crumble is liberally sprinkled over and around the pastry cream, delivering a sublime textural foil to the smooth, chocolate centre. 
Mana may hold Manchester's only Michelin star at the moment, but the smart money is on Musu not only catching up but overtaking. The kitchen runs like a glorious machine, serving up some of the North's best and most beautiful dishes in a restaurant space that manages to be both stylish and timeless, all at once. If you want to sample the city's most dazzling food and drink for your festive meal, make it Musu.