Matt and Phred's
Veronica Stratford-Tuke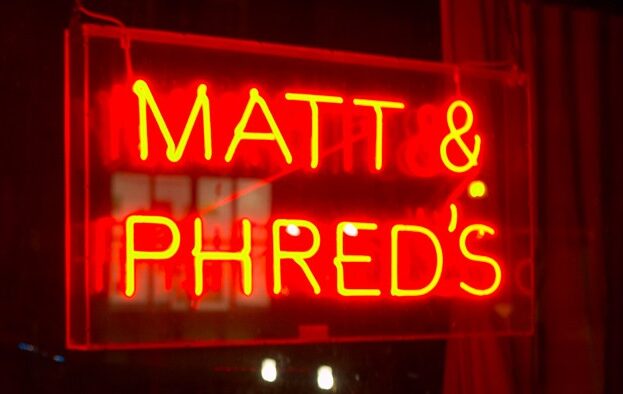 You could say it's curious that a club with the flair of Matt & Phred's is tucked so discreetly into the brickwork. One of Manchester's most intimate live venues – with a capacity of roughly 200 – this bar is nestled rather secretively into the Northern Quarter's Tib Street. But follow the radiating sound of brass and, once inside, the tidal wave of warmth and energy are harder to miss. Matt & Phred's jazz club is Manchester's own funky slice of New Orleans, and you don't need to be a jazz fanatic to get into the groove.
Depending on what you feel like, there's the choice between a perch at the bar, tabled seating or standing to see the live bands, which play at least six nights a week. The tables, which skirt the stage as well as extending into darker and more private corners, get booked up days before, so it's advisable to reserve in advance. The tea lights that decorate them are in tune with Matt & Phred's unpretentious melody; they flicker inside DIY candleholders, à la recycled glass jars. Even if you can't book a table, this shouldn't deter you – there's space at the bar, which is the place to admire the artwork that patterns the club's red-painted walls
Weaving between the seated silhouettes of those stroking their beards or tapping their toes, waiters and waitresses serve food until midnight. "Happy Hour" is particularly perky, with the offer of a free pizza – usually around the £7 mark – for every two drinks bought (check venue website as Happy Hour times vary a bit). Even on a Friday night the bar staff seem unfazed by the number of orders.
In fact, it's the punters who might well have the trickiest task – which cocktail to try? The appropriately named "jazz punch" hits a high note with rum, yellow Chartreuse, boba pearls, mango and strawberry tea; the Paloma is also worth well worth trying. Matt & Phred's Manchester Tourism Award sits nonchalantly above the back bar and, beneath it, the array of reasonably priced beers, ciders, wines, spirits and bottled ales is enough to cheer even the bluesiest (get it?) of visitors.
Drawing in high class, musical talent from both nearby and further afield, Matt & Phred's is reputed by some to be the best jazz club in the North West – even better, entry rarely costs much more than a fiver. The house band, The Night Creatures, know how to loosen things up with their upbeat rhythm and blues. The sousaphonist was spotted with a toy snake around his neck, while the pianist sported antlers. Their soulfulness is infectious – it spreads through the clusters of bodies and challenges even the seated to keep still.
So, New Orleans has reached Manchester in the most soulful of nighttime haunts. Our only warning: this venue can leave you very hot under the collar – we suggest wearing layers you can take off.