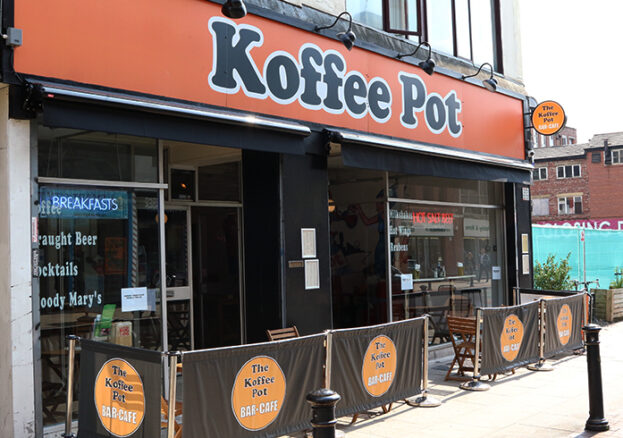 Looking for the best breakfast in Manchester? Take a lesson from this former greasy spoon in the Northern Quarter.
Hands up who remembers the Northern Quarter in its pre-hipster days? When a trip up Oldham Street of a Friday night felt like an adventure, when the Land o' Cakes (possibly the best name for a pub ever) at the far end of that same road could have hung a sign out that said "abandon hope, all ye who head past here"? Properly gritty, come morning all you'd find on the as yet to be café-cultured streets were the icky remnants of the night before – and a greasy spoon on Hilton Street that served up bacon barms with a side serving of fag ash.
Oh, how times change. In fact, one of the early indications that the Northern Quarter was going to get fully hipstered-up came in the form of this aforementioned greasy spoon. Once a fairly charmless café, when it re-opened in 2006 it was a revelation: street art on the interior walls and external shutters, people with five haircuts on one head sitting in its roomy new booths, and the general chit-chatter leaning towards music, fashion, design and all the things that this most creative of quarters is now known for.
All you'd find on the as yet to be café-cultured streets were the icky remnants of the night before
Despite the heartbeat-like opening and closing of bars and other eateries all around it since then, the Koffee Pot continues – probably because of the enduring appeal of the one thing that it did carry over from its previous life: good value hot food. It still majors on breakfasts (it opens at 7.30am and closes early afternoon, when the food runs out), its smoked haddock rarebit on toasted crumpet (£6) working wonders for the morning-after blues. This latter dish comes with a banging Tabasco kick, which says much about the plates dished up here. You don't come to the Koffee Pot for a subtle taste/texture combination; you come to refuel, people-watch through its enormous windows and then get back on out into the fray.
Alongside standard breakfasts are weekly changing specials that run to the likes of buttermilk pancakes with streaky bacon, haggis with spinach and eggs, or kippers on sourdough toast. But if you're not in the mood for fancy food, then stick to what it does – and has done for as long as anyone can remember – best: big cooked breakfasts, tea and toast, and cheap n' cheerful bacon barms. Only these days, that side serving of fag ash has gone the way of much of the Northern Quarter's pre-hipster past. It's history.