Lotus Vegetarian Kitchen
Polly Checkland Harding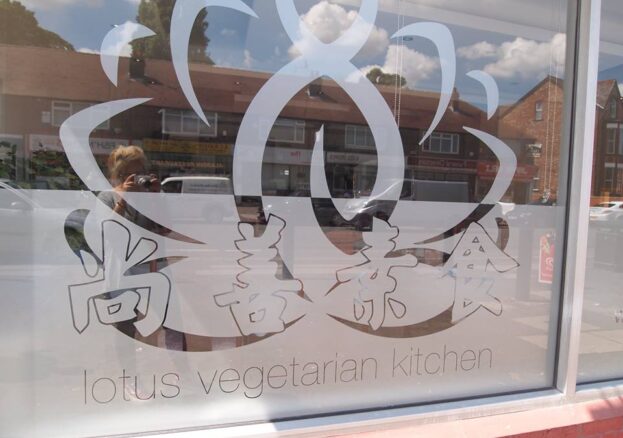 There are plenty of options at this meat-free Chinese restaurant. We found out whether the food was as good as the menu's range.
When you're a veggie, you quite quickly discover that some cuisines are more friendly than others. Travel in Spain and the range is limited. You're also likely to be faced with confusion if you insist that yes, chicken does count as meat. It is getting better – but back on home turf, restaurants seem to be going through a meat-and-neon seizure. Exhibit A is Red's True Barbeque, while exhibit B, uber-bar Cane and Grain, has just announced a "Man Vs. Ribs" challenge that involves six kilos of meat, three sauces and four sides.
But we're here to talk about Lotus Vegetarian Kitchen. This meat-free Chinese restaurant (found close to the southern suburb of Withington) has an unprepossessing frontage: clean, white, with black and lime green lettering, it looks as though it might be moonlighting as a dental practice. The food, though – the food is good.
It might have the decor of a dental practice but the food – the food is good
Perhaps the best thing about Lotus Vegetarian Kitchen is the choice. The decision-making required to narrow down the lengthy menu made our brain ache; it's not a process vegetarians often experience. We went for crispy spring rolls and grilled dumplings to start, with the sizzling skewered veggie satay chicken and the tofu, aubergine and bean curd hot pot for mains. Everything was well flavoured and prepared, with the sticky "chicken" satay a particularly moreish highlight. Chowing down on vegetarian prawn crackers before the food arrived, meanwhile, undid years of being excluded from their fizzy goodness.
Lotus Vegetarian Kitchen doesn't serve alcohol, but you can bring your own. Though the décor is ropey, with plastic flowers and a print on one wall that looks like a screen saver, the staff are excessively friendly. Like V Revolution in the Northern Quarter, this place makes eating as a veggie less chore, more choice. Go with a big enough group to cover most of the menu, then tell us which are your favourite dishes. Please – we'd like to know what else to try when we go back.
For more vegetarian restaurants in Manchester, read our Guide.