Liverpool ONE
Susie Stubbs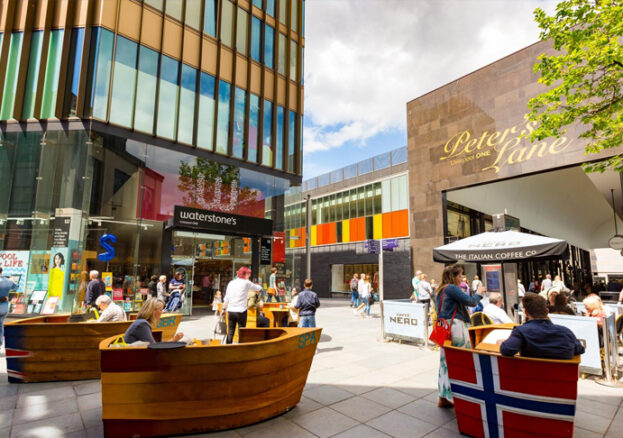 Created by developer Peel Holdings, Liverpool ONE avoided the fate of so many 1960s and 1970s large-scale shopping developments (of which St. John's is a classic example). Instead of obliterating what was already there, blocks of new-build sit alongside preserved and renovated existing buildings.
Newer buildings vary in style; the award-winning Keys Court, which houses smallish shops such as Whistles, is a part-covered shopping area whose colourful design is entirely different from, say, the more convention steel-and-glass John Lewis building. All in all, it is a far cry from the covered, windowless shopping centres of yore.
It also links up the historic area around School Lane / The Bluecoat to the once unlovely and windswept Chavasse Park. A long walkway bordered by the Hilton hotel on one side and the hill of Chavasse Park to the other acts as an arrow to the Albert Dock; a ground-level fountain entices you on and where once it was a windswept gallop to the waterfront now it is more of a leisurely stroll. The city centre has finally reconnected to its waterfront and it is largely thanks to Liverpool ONE.