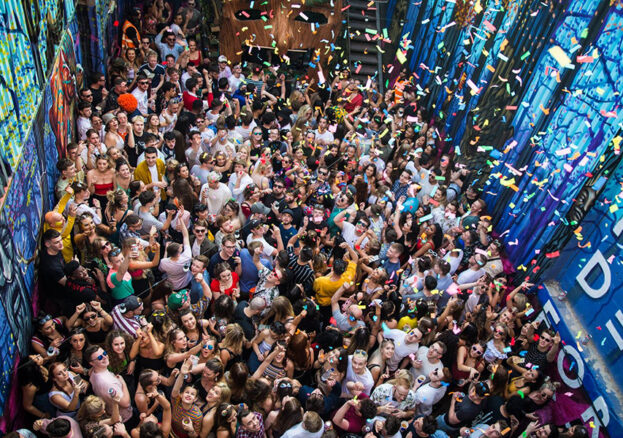 Techno-aficionados at Hidden have had resounding success with sell-out club nights in Manchester. A reliably authentic raver haven that echoes the concept of Islington Mill, Antwerp Mansion, and the grassroots Manchester venues of the eighties and nineties, the previously neglected textile mill is rejuvenated with the healing vibrations of heavy bass. Every weekend in the wee hours happy partygoers spill out into the shadows of Strangeways, all danced out with smiles aplenty.
On their first birthday, Hidden adorned the skies with colourful umbrellas, forming a kaleidoscopic ceiling to match the vibrant art spray-painted across the walls. Glimpses of green added to hidden forest vibes as heads bopped and arms waved beneath a canopy of trees and ivy.
Still not convinced to make a night of it on Mary Street? Maybe their status as an award-winner will persuade you. DJ Mag awarded Hidden with the title of Best Small Club in the UK as well as a place among the Top 100 Clubs in the World. Not bad eh.