Private White V.C
Susie Stubbs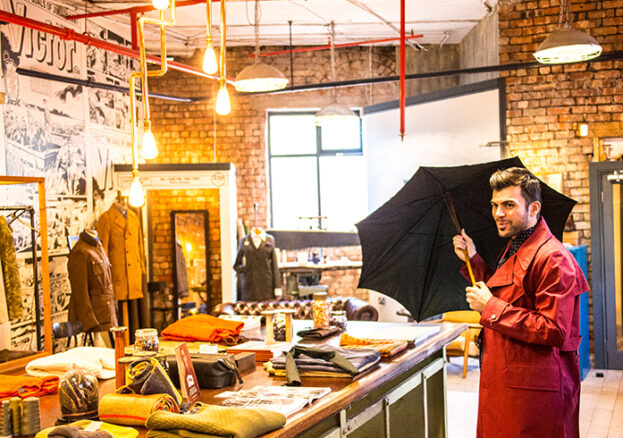 How a 100 year-old textiles factory in Salford was saved, and became one of Britain's newest menswear brands.
Everyone knows the story of Manchester and textiles. How a town became a city, fattened by the riches woven here and exported across the globe. How the city outstripped the capital, and was once the world's largest centre of manufacturing – all thanks to the fabrics made there. And how it all came crashing down, with Manchester's textiles tale reaching a less than fairytale ending as its mills and factories closed down in their droves.
But that wasn't quite the close of the story. Not for a small factory on the banks of the River Irwell at any rate, and not for a certain Jack White, the Victoria Cross recipient who served as an apprentice cloth-cutter in a Salford factory after the First World War. Jack rose through the ranks to become the factory's owner but, facing ill health, he sold it in 1949. The factory carried on, though, making coats and uniforms for the royal family, stitching up a high fashion storm, making outerwear for the likes of Burberry, Stella McCartney and Paul Smith.
It hit rough times with the era of cheap, throwaway clothing. Customers deserted – lured by cheaper factories in Asia and the Far East. And then the recession arrived and, for a while, it looked as if Jack White's factory was doomed. So far, so foreseeable – but then Jack White's great-grandson, James Eden, bought back the factory in 2009. Two years later he launched the high-end Private White V.C, a luxury menswear label that now exports its coats, shirts, jumpers and the like to over 25 countries.
It's a luxury brand, yes, but it's reinventing Mancunian manufacturing
As a brand, Private White V.C is heavily influenced by the military past and functional work wear of Jack White himself; think herringbone flight jackets, twin track wax jackets furnished with copper zips and single breasted raincoats. Much of the cloth is made locally, from mills in Greater Manchester (such as Saddleworth's R. Gledhill), while everything is handmade on the premises in Salford – often using equipment that's been functioning for decades. And, while this is a brand whose jackets and trousers are unlikely to be worn by the majority – those twin track jackets are £575 a pop – there is something satisfying about a factory, in Salford, still doing its thing 100 or so years since it first started up.
For those of you gnashing your teeth at the prospect of a jacket that's nearly six hundred quid, take solace from the fact that James Eden and co. have secured a future for a factory that was otherwise teetering on the brink of insolvency. Or the fact that some of its eighty or so staff have been making clothes at the factory for thirty years, or that the team at the newly reopened Whitworth are all wearing jackets and jerkins, made from Lancashire-woven cotton, given to the gallery by Private White V.C. It's a luxury brand, yes, but it's also one that is reinventing Manchester manufacturing – and perhaps ensuring that the city's cloth-making story doesn't only live on as the stuff of bedtime stories.