The Runaway Brewery Tour & Tasting
Carmel Smickersgill, Tours & Activities Editor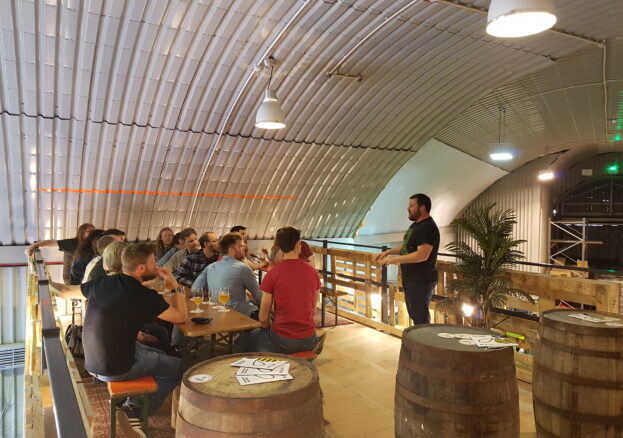 The Runaway Brewery Tour & Tasting is your chance to explore a boutique brewery and sample some of Manchester's finest craft beer.
The North has a proud reputation for DIY culture, a testament to this is the sheer number of microbreweries propping up and revolutionising how we drink beer. Manchester and Salford's recent brewing success stories include; Shindigger, Cloudwater, Marble, Blackjack and Alphabet. Thirsty yet?
In the Green Quarter of Manchester, you'll find Runaway. This small-scale brewery was started by two old friends as a reaction to the closure of so many pubs, they stuck on the name Runaway after running away from their stable day jobs to start the venture.
Brewing is definitely a craft of passion and it can often be inspiring to meet people working hard to hone their craft.
The Runaway Brewery Tour & Tasting happens every Saturday at noon, tours last around an hour to an hour and a half each and are lead by one of their three brewers.
You'll be please to know that the tour begins in the bar area of the brewery where you kick things off by sampling four beers and learning more about the four main raw ingredients which go into the brewing. Each beer you taste will emphasise one of these four main ingredients, showing you how flavour can be affected by subtle adjustments to the recipe. One of the best things about joining the tour is sampling exclusive batch brews that aren't found easily in the wild.
The Runaway ethos is based around creating beer that they themselves would want to drink, rather than coming up with outlandish beers for the sake of it. Expect good honest flavourful beer with a whole load of care and thought behind it. As you head through the main brewery the beer-making process is explained, you'll see the industrial scale equipment close up and learn how Runaway creates their individual flavours.
Brewing is definitely a craft of passion and on The Runaway Brewery Tour, it's inspiring to meet people working hard to hone that craft… especially when you can drink the results.