Fig and Sparrow
Phoebe Hurst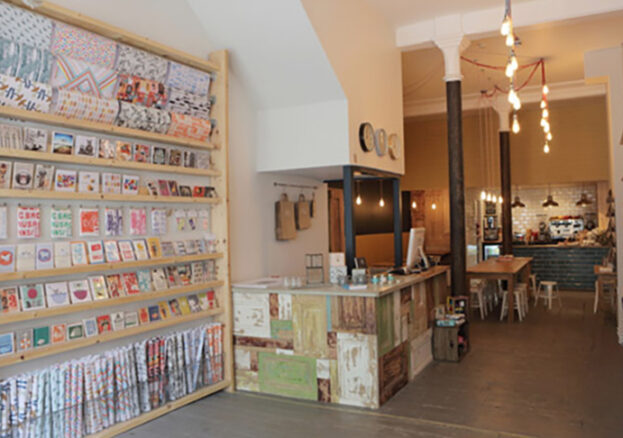 Fig & Sparrow offers locally-sourced coffee and contemporary craft from Manchester artists.
If we were being pernickety, we'd point out that Fig and Sparrow isn't technically a shop. Not content with stocking cards, quirky gifts and handpicked pieces from local designers, the new Oldham Street lifestyle store also boasts a coffee bar, complete with a tantalising selection of loose leaf teas and homemade cakes. But killing two birds (or should that be sparrows?) with one stone was all part of owners', Jan and Emily Dixon's plan. "We wanted to become bit of a Northern Quarter institution and create somewhere that wasn't just a shop but a part of the community," says Jan. "It's somewhere you can come to work or meet your friends."
The couple's background in the Manchester art scene also informs the Fig and Sparrow ethos of offering lovely things to buy and drink. As creative partnership, Tape, Jan and Emily have directed a series of short films and are currently involved in Manchester International Festival's do it 2013 art show. They hope that Fig and Sparrow will become another way for them to engage with local artists. "Working at Islington Mill Studios made us realise how much talent there was in Manchester and how much of it would be accessible to the public for everyday use," says Jan. "We wanted to promote the work of local artists; selling functional items that are also a piece of art in their own right." Although the range of stock on offer is limited to small homeware items and gifts, the Dixons hope to expand in the run-up to Christmas. For now, you can find "Pocket Manfriends" by Manchester-based designer Nicola Rowlands and screenprinted tea towels from Megan Price – who also happens to be the shop's stand-in manager. There are plans to use the space to host small exhibitions and customers are already greeted by Emma Lonsdale's collage of Thomas Street as they enter the shop.
We wanted to create somewhere that wasn't just a shop but a part of the community
With so much care given to the creative side of the store, you'd almost forgive Fig and Sparrow for falling short in the coffee stakes. Luckily, Jan and Emily are as enthusiastic about their coffee as their art, and use Ringtons to source their tea and coffee. The Newcastle-based, family-run business has been delivering tea since 1907 and holds special significance for the pair. "Ringtons has this real sense of nostalgia," explains Jan. "Because we're both from the North East and we both have these memories of the Ringtons van, there was no question about who we were going to get our tea and coffee from." The selection of cakes on sale comes even closer to home. Bolton baker, Andy Holmes provided the cakes on the couple's wedding day and now supplies Fig and Sparrow with chocolate orange muffins. Whether contemporary craft store, coffee bar, design space or other, Fig and Sparrow's celebration of local design and commitment to good coffee shows that sometimes, it pays to do everything at once.