Piccadilly Records
Desmond Bullen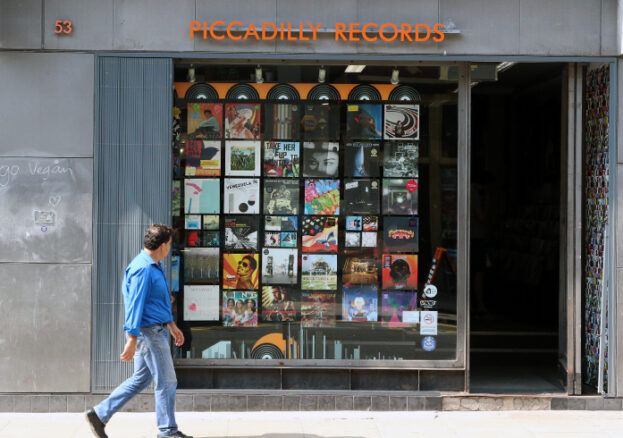 People of a certain kind remember their first record shop. Encountered in the budding tangle of adolescence, to approach its counters, the object of one's infatuation pressed into one's hand, was to feel the same seesaw anxieties as to brave rejection at the school disco. That first purchase was a rite of passage, a kiss that revealed a world that agitated hormones itched to explore. Naturally, those giddy intensities cannot sustain, and, half-forgotten for the instant gratification of the internet or the cheap thrills of the supermarket, some first record shops have died, fondness insufficient to keep their romance alive.
Not so Piccadilly Records. Born with the post-punk big bang in 1978, generations of Mancunians, actual and aspiring, temporary and permanent, have found new ways to fall in love with the doors that it has opened. Originally located off Market Street, it was quick to seize the possibilities in the wake of the other "big bang", the one of 1996 that rearranged Manchester's face so violently (clue: the IRA had a hand in it), and relocated to the Northern Quarter where it has pulsated ever since.
Over the decades it has woven itself into the fabric of the city's music community
So, how has Piccadilly Records kept its spark where so many others have failed? Like all good record shops, it is more than just a location from which actual artefacts can be acquired in an increasingly digital world. It's no exaggeration to claim that, across the decades, it has woven itself into the fabric of the city's music community; the records – in whatever format – are merely the most obvious manifestation, but it is also a place where tickets can be bought, flyers can be perused, fanzines can be distributed, discoveries can be made.
Lying a doorstep away from the venues in which bands themselves sound check, socialise, thrill, and sometimes disappoint is a distinct advantage: Night & Day Café, The Castle and Gullivers and many others are reassuringly close by. But laurels are not to be rested upon, and Piccadilly has always been an early adopter. Staff recommendations, an annual "best of" list, in-store reviews, records of the week, a shed-load of vinyl: these are all things that Piccadilly Records has long since traded on. It has embraced the hope of Record Store Day, and though that particular annual event flirts with historical re-enactment, Piccadilly itself seems resolutely forward looking. And its online shop manages to get across the bricks and mortar charm and personality of its real-life venue, winning fans from way past the Northern Quarter's boundaries. So to say Piccadilly Record prevails, to call it an institution, may be accurate, but it's also misleading. This is one record shop that is as vital to the music that's still committed to physical form as the musicians who make it.