Vinyl Exchange
Johnny James, Managing Editor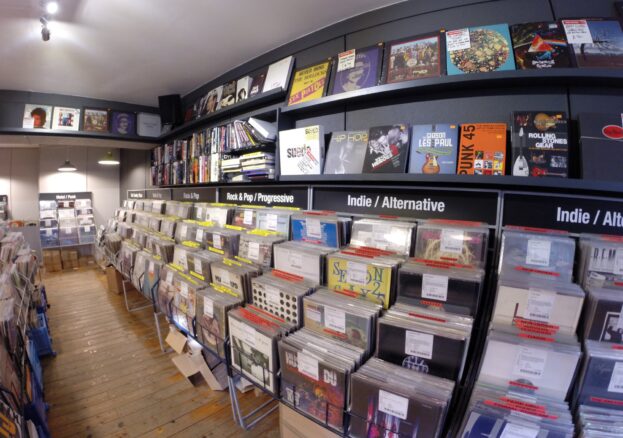 First opening its doors in 1998, Vinyl Exchange has been a treasured institution within Manchester's vibrant music scene for 30 years. Today, it continues to help shape the city's musical landscape, offering an impressive collection of second-hand gems alongside the best new releases on vinyl and CD. Located on the corner of Oldham Street, at the very heart of the Northern Quarter, it's a beacon to which both local and visiting music fans flock.
The shop is the largest seller and buyer of rare and second-hand records, CDs and DVDs in the north-west of England, making it the city's capital of serendipitous finds. Upstairs, you'll discover a vast collection of CD's and DVD's, and downstairs, you'll enter vinyl heaven. Record-lovers beware – you will lose hours in Vinyl Exchange's basement, where thousands of rarities and long-forgotten gems lie waiting to be discovered. Take the time to dig through these bulging crates and you will be handsomely rewarded.
It's fruitless to try and list all of the genres that the shop stocks, because it offers pretty much every style of music there is. And the staff are clued up on all of it. Vinyl Exchange is their kingdom, and they know it like the back of their hand. The large team features specialists in a huge range of genres, and it's apparent that these people love what they do. Expect a friendly and informed browsing experience, wherein the staff will keenly help you to find exactly what you want (and what you don't know you want!). Again, beware – you will go in for one item and come out with that and ten more besides.
As for price, The Vinyl Exchange offer extremely competitive rates, with much of the stock a good deal cheaper than you'll find elsewhere. See this for yourself by taking a look at their website, which shows a good selection of their stock. Alternatively, if you're inclined towards Discogs, eBay, or Amazon Marketplace, you can find their offerings in those places too. And if, before adding to the pile, you need to free up some space in your own collection, Vinyl Exchange will offer you a great price for your unwanted vinyl, CD's and DVD's, and an even better deal if you trade. It's these great prices that keep the shop's stock turning over quickly, meaning that repeat visits are rewarded with fresh delights to thumb through.