Evuna Northern Quarter
Creative Tourist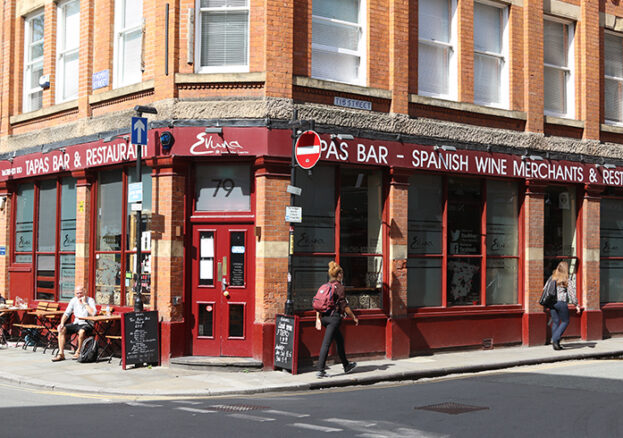 I've long been a fan of the original Evuna on Deansgate, a quietly successful wine shop and tapas bar that sells unusual Spanish wines, to be sampled on site or bought by the bottle and taken away. So I was delighted when they opened a second outpost right in the heart of the Northern Quarter, at the intersection of Tib and Thomas streets, in an old bank building that had been empty for years. At that time, way back in 2013, the neighbourhood's restaurant offerings badly need more variety, and while now it may have that variety, Evuna is still way up there.
The interior has been stripped back to brick walls and burnished wood, with wine bottles providing the only decoration. It's an understated and very Continental place, with a few tables out front well placed to catch the raucous running floor show outside The Millstone pub. We sat at the bar. It feels more casually Spanish to sit there, and someone's always right at hand when you want to order another plate or another glass. They also serve spirits and beer, but that wine menu is something else, with rare lines in everything from cava to sherry made all over Spain. Most of them you won't see at the supermarket. If you're overwhelmed by such bounty, ask the friendly staff for some ideas.
My friend loved her fresh, crisp glass of oaked White Rioja, while I made my way joyfully to the bottom of an enormous glass of mixed-to-order Sangria (what can I say? I'm a philistine). After the intensely worked seafoam and quail eggs of fine dining and dudefood's queasy overkill, it's wonderfully refreshing to sit down to a tapas meal, where simplicity is the order of the day. Evuna's menu offers all the usual favourites, most keenly priced, with a few changing specials. Patatas bravas were perfectly cooked, in a mild and benevolent tomato sauce. A fillet of sea bass was crispy on the outside and flaky inside. Garlic prawns were big and fresh and garlicky. A platter of ham, manchego and chorizo was great quality; and when you're slicing food and putting it on a plate without doing anything to it, quality is everything.
The only things I didn't totally love were the bread, which wasn't crusty or flavoursome enough for me, and the fried calamari, which seemed a little bland and could have used a better dipping sauce than the small squirt of mayo provided. These are small criticisms though. If you find yourself in the vicinity of Tib Street on a hot summer night, you know just where to go.