Coda Vinyl Café in Buxton
Sara Jaspan, Exhibitions Editor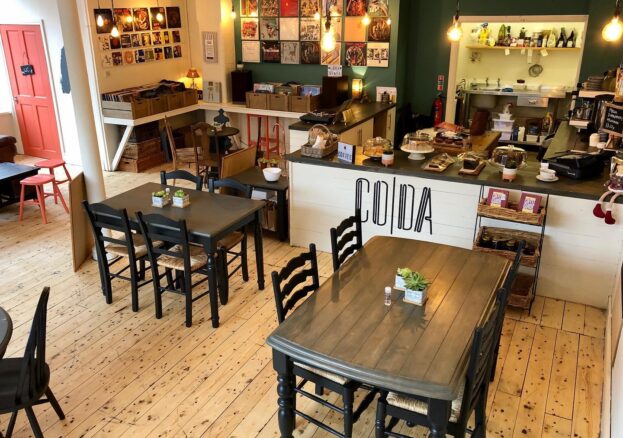 Just off Buxton's grand Terrace Road awaits Coda Vinyl Café. As the name suggests, the local gem is both a much-loved cafe and record shop, sister to Vinyl Planet in Macclesfield.
The vibe is supremely chill, with comfy seats and (of course) an on-point selection of music always playing in the background. Head here for delicious homemade food and hearty portion sizes (we especially love the pillowy focaccia doorstops). Vegetarians, vegans and gluten intolerants are particularly well catered for and we can vouch that the cakes in particular are supreme. It also serves excellent coffee supplied by Buxton Roastery, posh loose-leaf teas, and what is indisputably the best hot chocolate in town.
Coda is a crate diggers paradise. Check out the huge range of new and used vinyl for sale whilst you sip, and have a listen before you buy. Keep an eye out for the café's regular vinyl swap nights, too, where you can meet other enthusiasts and trade any unwanted records in your collection for the ones you really do.
With Buxton Museum and Art Gallery, The Green Man Gallery, and the legendary Scrivener's Books & Binding located nearby, this pocket of Buxton is well worth exploring.