XFRMR at the Science and Industry Museum
Kristy Stott, Theatre Editor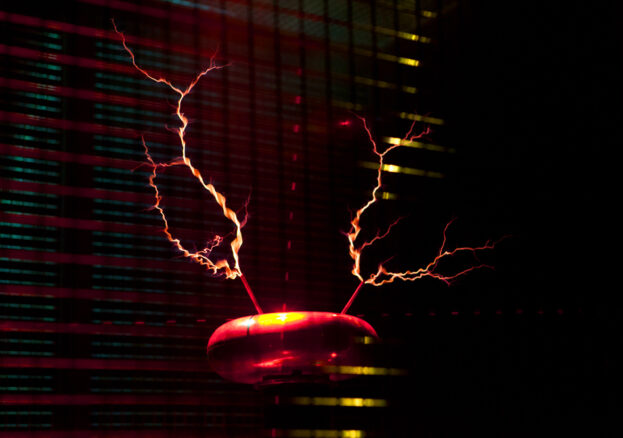 In 1891, inventor Nikola Tesla patented the Tesla coil – an invention that transmits electricity wirelessly, rendering the electricity visible, producing beautiful flying arcs of energy. In this spectacular performance, XFRMR – which is shorthand in physics for an electrical transformer – the performance possibilities of the Tesla coil are explored.
The creator of XFRMR, Glasgow-based Robbie Thomson is a visual artist who specialises in innovative lighting design, sonic art and kinetic sculpture. An associate artist with Cryptic, Thomson's works have been displayed widely across the UK and the rest of the world, including Australia, France, Indonesia, Mexico, the Netherlands and South Korea.
The multimedia performance installation is housed within an imposing steel Faraday cage so that the Tesla coil's electric charges are contained. Using projections, motion graphics and music, XFRMR explores the sonic possibilities of the Tesla coil and uses the sounds of the electromagnetic fields as vital inspiration for the composition. Thomson conducts the performance with a minimalist soundscape created with a laptop and synthesiser, and alongside the Tesla coil creates extraordinary though beautiful tones.
This is a truly unique performance event. With a discordant and wonderfully industrial cacophony, XFRMR is not for the faint-hearted. Running at around an hour – this is a standing event which uses flashing/strobing lights. This event is suitable for over 18's.