Wise Children at HOME
Kristy Stott, Theatre Editor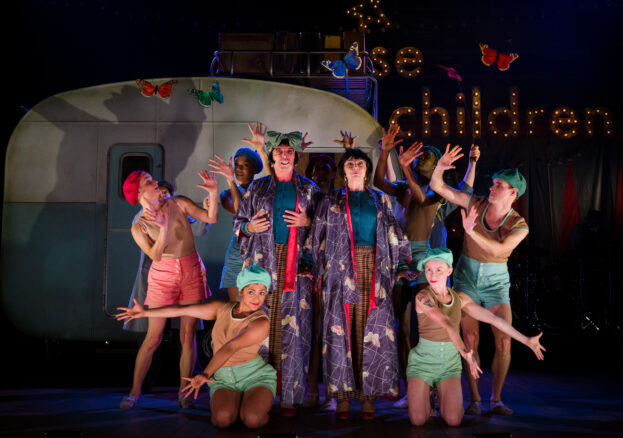 This February Wise Children Theatre Company and The Old Vic bring their world première production of Angela Carter's novel Wise Children to HOME Manchester.
Emma Rice is an acclaimed director and most well-known for her work with Kneehigh (The Flying Lovers of Vitebsk, Brief Encounter, Romantics Anonymous and Tristan & Yseult). Now, she brings her unique and charmingly puckish vision to Angela Carters final novel, Wise Children.
Wise Children is also the first production of her Rice's new theatre company of the same name. Wise Children Theatre Company seeks to create landmark work with outstanding artists and to challenge existing theatre touring models. Following huge critical acclaim, we're absolutely thrilled that the debut show from Wise Children will stop off at HOME on its tour of the UK.
The story opens on the 75th birthday of Nora and Dora Chance, identical twin sisters and chorus girls born and bred south of the river in Brixton. It's 23 April and the sisters share their birthday with William Shakespeare, and their father Melchior Hazard. Celebrating his 100th birthday on the other side of the river in Chelsea, their father is considered to be the greatest Shakespearian actor of his generation.
Now this family tree has a lot of branches – Melchior also shares his birthday with his twin brother Peregrine Hazard, who is believed to be dead. There are also mumblings as to whether Melchoir is the birth father of Nora and Dora.
Wise Children is a rambunctious, saucy and inventive production – a delightful tapestry of theatrical joy and heartbreak. A truly free and spectacular show, which manages to distill the carnivalesque spirit of Carter's novel while also managing to control any superfluity in its translation to stage.
Expect clever play on multiplicity and Shakespearian illusion; double entendres and skilfull physical comedy; puppetry, reinvention and gender-fluidity. Carter would almost certainly give this production her seal of approval.