Van Gogh Alive at MediaCityUK
Maja Lorkowska, Exhibitions Editor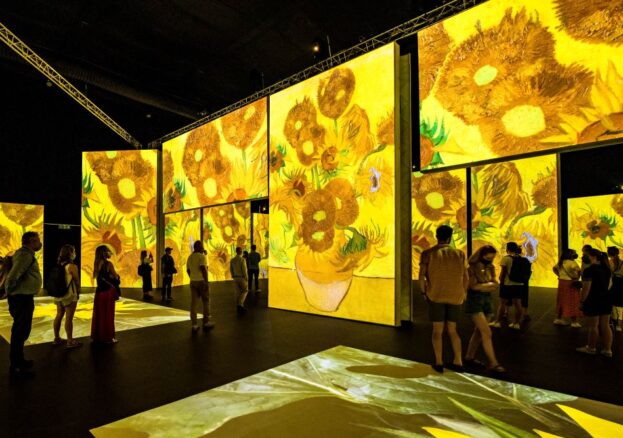 This autumn, MediaCityUK welcomes Van Gogh Alive, an immersive, multi-sensory experience that elevates the Dutch master's work to new heights with the help of modern technology.
You may already know (and love) the luscious brushwork of Vincent van Gogh, but it isn't very often that you have the opportunity to quite literally step inside of his paintings. This is exactly the kind of unforgettable experience that MediaCityUK is offering to visitors through Van Gogh Alive.
The event is an immersive installation of the artist's work, with high definition projections of Van Gogh's paintings displayed using innovative SENSORY 4 technology on a large scale, in the MediaCityUK's Piazza. Ablaze with vibrant hues, combining multi-channel motion graphics, cinema quality surround sound with a classical score and an array of projectors, the technology works to create a memorable experience for the whole family. Running for three months following displays in London and Birmingham, the show has now landed in the North West to delight new audiences.
Born in the Netherlands in the mid-19th century, Vincent van Gogh was a Post-Impressionist painter whose style is characterised by the unrestrained use of impasto paint and an impeccable eye for colour. Despite being relatively unknown throughout his life, he became one of the most influential figures in Western art history thanks to his ability to perceive the everyday as exquisite. His subjects were often landscapes he admired, people he encountered and scenes from daily life. In the hands of the Dutch master painter, even the most mundane of subjects would become a meditation on finding beauty where we would least expect it.
Entertaining for older and younger audiences alike, the installation doesn't just show disparate images but brings visitors closer to Vincent van Gogh's life story and his periods of creative development that eventually resulted in one of the most recognisable artistic styles in modern art history. The digital display includes the most iconic of works like Starry Night and Sunflowers, as well as the lesser-known pieces.
Van Gogh Alive is a chance to experience the painter's work from a unique perspective and see them in greater detail than ever before. Somewhat mirroring his vibrant world and the frenzied manner in which he created his work, the show creates the perfect opportunity to get lost in the colour and temporarily escape from the autumn rain.