The National Festival of Making 2018
Sara Jaspan, Exhibitions Editor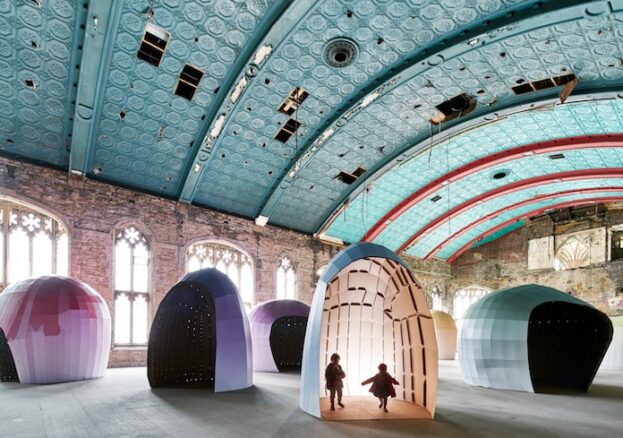 Blackburn is a place of serious entrepreneurialism and innovation. It was a centre for textile production from the 13th century onwards – way before the Industrial Revolution had even kicked in (when the northern 'boomtown' became one of the first to be industrialised in the world). And is now back on its feet again after years of decline brought about by globalisation in the 1960s onwards. Indeed, it was named the 'best place in Britain to make a living' in 2015, with a larger than average proportion of the local population involved in manufacturing.
So, what better a location for the UK's National Festival of Making? Dubbed 'a new kind of festival for a new age of making' by its co-founder and Lancashire-born fashion powerhouse Wayne Hemingway, the two-day event returns for the second year, flooding the streets of Blackburn with an impressive array of free workshops, talks, hands-on activities, performances, film screenings, art, celebrity cookery demonstrations, music, markets and more, spread throughout the town.
Among the 2018 festival's multiple strands, Art in Manufacturing (commissioned in partnership with Super Slow Way) will see artists collaborate with manufacturers – last year resulting in a tissue paper-inspired choral performance and troupe of dancing factory bakers. Making activities will offer the chance for visitors of all ages to meet and learn new skills from industry professionals. Food & drink makers will showcase a range of inventive gastronomical creations by both local and international food producers (such as the popular Asia-meets-Lancashire pies that were served up in 2017). And lastly, Makers Market will present a hand-picked selection of some of the most imaginative and dedicated makers from around the UK, whose textiles, ceramics, paintings and prints will all be on sale.
Mini makers can get busy at family workshops including making tracks, moves, stories and mixes with music industry experts. Free family entertainment also includes world-renowned street theatre shows. Don't miss Spain's Vaiven Circus bringing to life the ingenuity of making through dance and acrobatics as an unlikely team build a machine together from scratch.
Though it certainly plays a much smaller role in our modern, day-to-day day lives, there's a growing trend towards a return to the practical act of making, fuelled by the mental, physical and emotional benefits such hands-on activity carries. Ultimately, this town-wide, timely festival intends to celebrate and inspire – encouraging visitors to unlock their own talents, aspirations and creative potential. But most importantly, to get involved!